Alcott Weddings & Events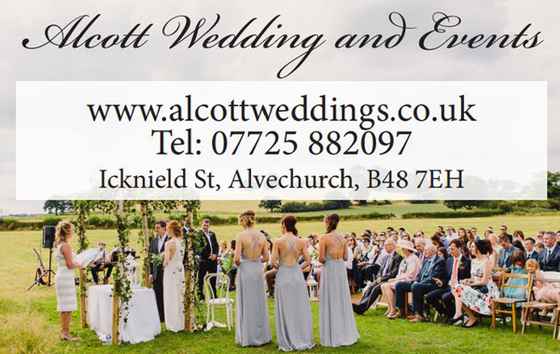 Wedding Venue & Services in Bromsgrove
Alcott Farm is a rural retreat in glorious rolling Worcestershire countryside perfect for weddings and events. A peaceful setting with lakes, fields, trees and horses awaits you and your wedding guests at this individually designed wedding reception and events venue.
The Farm is a family run working horse livery yard, wedding and events venue which has been in our family for over 40 years. As we have such glorious surroundings and space, we have hosted various events for our friends and family on our land including birthday parties and a marquee wedding reception. All have been a fantastic success so we decided to extend our services to you!
Get In Touch
Alcott Weddings & Events
Icknield Street
Weatheroak
Alvechurch
Worcestershire
B48 7EA
01564 824051
07725 882097
Visit Our Website
Email Us
Reviews
Average Rating: Alcott Weddings & Events - 6 reviews
Lewis & Sarah Mar 31, 2020
We had already decided that we wanted a festival themed wedding, so when we walked onto the field and saw it and the surroundings for the first time, we knew this was the place to build the wedding we had envisaged.
Of course, having the right people behind this place is crucial to making your dream day come true, so meeting Lucy we got the feeling that this would not be a problem, and it was not. Lucy and her team have the perfect mixture of experience, professionalism and approach ability to deliver and much more.
Lucy has many suppliers that she has worked with over the years, that you will find extremely helpful, as you start to shape the necessary elements of your wedding.
Working with Lucy and her team has been brilliant, none more so than the day itself, where all that was needed was taken care of. I could not recommend Lucy and Alcott enough. The location the atmosphere and the day we had was outstanding and will last forever in our hearts and minds of not just ourselves but also our guests. Thank you Alcott Farm!
Jodie & Sam Mar 31, 2020
We wanted a relaxed festival feeling wedding and as soon as we met Lucy and saw the field we were completely sold on it. It's beautiful and you feel like you're so far away from Birmingham (even though it's conveniently close). Lucy and her suppliers were all absolutely amazing and the right balance of organised and laid back. We had so many people say it was the best wedding they'd been to- the food , the tipi, the venue, the toilets were all fantastic- we wouldn't have changed anything. The events manager on the day, nick, was also incredible, anything we needed he was there to help us. We couldn't recommend Alcott enough!
Robyn & Tom Mar 31, 2020
Lucy at Alcott saved our wedding!We had planned a whole festival themed wedding outdoors with marquees, fairground games, pizzas, etc. Then, 6 months before the wedding, we found out that we couldn't use the field that we had planned it all on!Luckily, I found Alcott Wedding & Events and emailed Lucy straight away, and our date was available! Lucy was so understanding and helpful throughout the whole process of moving our whole wedding to a different venue. She really reassured both of us that it was going to be an amazing day! The site is absolutely beautiful! In a lot of ways we are so glad that the disaster happened because Alcott was so much better than where we had planned the day before – it just wouldn't have been the same.
Lucy worked closely with all of the suppliers that we had hired, and recommended some of her own trusted ones for things we hadn't yet sorted. It all worked out perfectly, all of the suppliers set up quickly and easily, which let us get on with the decorating!
They also have loads of facilities at Alcott which are all beautiful – some of our groomsmen stayed in the Bed & Breakfast, which was super convenient as they only had to walk across a field at the end of the night. We can't wait to see the photos because we know the scenery was so lovely that they will look gorgeous!
Thank you Lucy!!
Sarah & Paul Mar 31, 2020
Well where do we start……. A huge thank you for making our day so special. We cannot thank you enough for all your hard work, right from our very first meeting you were so organised, friendly and helpful. You thought of everything and guided us through the whole process. You met with us regularly and helped us keep on track when sometimes we dropped off a cliff with our organisation. We never realised when we first started on our wedding journey how much would be involved, and we could never have done it without you. You not only gave us recommendations but also helped us with bar services, security, a Tens licence and our order of the day. You met with all our big suppliers and helped to guide the process during every meeting, which without you we would have felt totally out of our depth.
On the day your input was priceless, Paul could not speak highly enough of you that morning, you supported and guided all of our suppliers and as the forecast was rain we were unable to put out some of the things such as gift box, guest book etc however you did this all for him and gave him the reassurance and confidence to leave that morning knowing it was all in safe hands. During the reception you were that good we hardly noticed you seamlessly organising everyone including us and helping the ushers to organise our guests. All the guests commented on how professional you were and how the day ran like clockwork. Even our photographer (who has done many weddings) asked for your details so that they could recommend you to others, and I think that speaks volumes.
We cannot honestly put into words how grateful and lucky we were to have found you. You made our day so calm, organised and without you we would never have been able to create our dream wedding.
If you ever need anything from us, you know we are only on the other end of the phone and will always recommend you to others. We would be happy to speak to any potential brides or grooms who are looking to use your services, As I know they would have an amazing day with you by their side.
Thank you again so much.
All our love
Sarah, Paul and Louis (woof woof)
Michelle & Luke Mar 31, 2020
Going to start with the amazing venue; we had the most amazing day. Two years in the planning with the calmest, friendliest, and the most organised person in charge. We got to live out the crazy vision we had planned. Festivals all over the country cancelled. Not our Wedfest! With an amazing team we went ahead and lived our dream. Cutting, sucking and siphoning rain water with dad"s hose pipes, constant tipi checks, we had our dream day. With a surprise pizza delivery to our lodge to end our night.. Nothing is too much to ask even in a week of full bridezilla mode.
Throughout 2 days of severe weather warnings, we lived our dream and started married life, without a hitch. Complete calmness, professionalism and friendliness. The wind did not curtail our day and we loved every second of it. Guests have commented about how unique and perfect it was. We love love loved it.
Thank you Lucy and the team, we are forever indebted to you.
Helen & Joe Mar 31, 2020
Alcott Farm was the first and only venue we looked at before booking our big day! There are lots of amazing things about Lucy and this beautiful venue, but one of the best is that Alcott Weddings gives you a blank canvas to create your perfect day. Lucy is super organised and thinks of absolutely everything, which was a huge help in putting everything together. She has several fabulous trusted suppliers to choose from and plenty of contacts for anything you might want to add to your day. It was ideal to have a choice of suppliers that all came highly recommended, without being too restricted.
Lucy was there every step of the way to help us plan our day and it couldn't have gone more perfectly. We're so glad we chose Alcott Farm and we'd highly recommend it to anyone who wants a personalised wedding day in a stunning setting with spot-on suppliers who really know their stuff. Thanks so much Lucy and everyone in the Alcott Weddings team!