Waldron Decorators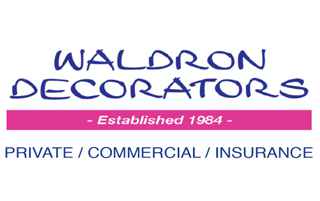 Painters & Decorators in Bromsgrove
Waldron Decorators Limited are an established award winning business, based in Bromsgrove and serving all local areas. Our professionalism, attention to detail and competitive prices have enabled us to thrive for over 30 years.
Our primary focus is to provide a quality domestic and commercial painting and decorating service offering painting, decorating, paper hanging, wide vinyls, murals, tape and jointing and plastering. We also offer a complete exterior repair & painting service. We pride ourselves on being reliable, tidy and most importantly trustworthy. Every job is carried out professionally and to a very high standard.
Passionate about helping customers to improve their homes, Waldron Decorators can help with:
Coving
Tiling
Carpentry
Plastering
Rendering
Interior & exterior
Private & commercial
Waldron Decorators FREE quotations give you peace of mind that they will do an amazing job at the right price.
Established and dedicated to providing amazing customer service and workmanship. Waldron Decorators are the perfect choice for home improvements in Bromsgrove.
Get In Touch
26 Buckfast Close
Bromsgrove
Worcestershire
B61 7PE
01527 577862
07715 777203
Email Us
Find Us
Reviews
Average Rating: Waldron Decorators - 42 reviews
Chris Daplyn Oct 06, 2021
I highly recommend Darren and his team. They were very thorough and didn't leave us until they were satisfied with their work. I'm also very satisfied with the standard of work and it has really freshened up our house.
Andrew Schofield Feb 04, 2021
Excellent work, would highly recommend Darren and his team.
Sharon & Wayne Woodall Dec 07, 2020
Darren and his team have recently completed decorating our home to a very high standard. The team prepared everything beforehand to ensure a quality finish was achieved and they were very clean and tidy throughout. We are very pleased and would highly recommend.
Jo B Aug 17, 2020
Very professional, excellent quality workmanship. Thank you Darren.
Sue & Ray anderson Jul 31, 2020
Another first class job from Darren and his team. Would highly recommend.
G & S Hodson Mar 13, 2020
Always use Waldron Decorators and regularly recommend them to family and friends.
Vera & Graham Giles Mar 12, 2020
Darren has just decorated our lounge and dining room. We would highly recommend him, so helpful and professional from helping to choose paint to completing the job. Very clean and tidy worker, all done in time he said job would take. Delighted customers, we'll definitely be asking him to come back. Vera & Graham Giles
Stella L Mar 07, 2020
Darren and the team have spent the week decorating our Kitchen/Diner, Utility, Hallway and new conservatory including all new Oak doors downstairs. The work has been carried out to the very highest standard, excellent finish everywhere and all left very neat and tidy afterwards. Thank you to Darren, Mark and Dean for a job very well done.
Richard Fox Jan 30, 2020
Darren and colleagues completed a hall stairs and landing, kitchen and utility room project with quiet efficiency. We were very pleased with the quality of the work, the attention to detail, and the willingness to carry out various bits of additional work as it arose. We would not hesitate to recommend him.
MI Jan 03, 2020
Darren and the team have recently redecorated two bedrooms, two bathrooms and a hallway for me, all to a very high standard. They work quickly and quietly, overcoming unforeseen problems without any drama and offering helpful advice when needed. I have more work for them in the coming months, which says it all; highly recommended.
Ann V Dec 17, 2019
Darren and his team did an excellent job on our exterior paintwork, looks really good now and will last for years! Only took just over a week to do it all as well. Would recommend them to anyone
Roger C Dec 17, 2019
Thank you Darren and team for a great job on our hall and stairs. Quality work and no mess. Will recommend you to friends and family.
DM Oct 03, 2019
First class and ultra professional, just what you expect from the best decorators in Bromsgrove and I would certainly recommend them very highly.
Angela Mawhinney Aug 02, 2019
Darren Waldron is a first class painter and decorator. We have had him for several jobs over the years and nothing is to much trouble he gives excellent advice and does an excellent job. Cannot recommend him more highly you certainly will not get better.
Michelle B Apr 18, 2019
Darren and Dean painted and wallpapered our bedroom and en-suite. The fitted wardrobes were all protected with plastic sheeting as was the stair carpet. Work done ahead of schedule with excellent finish to fiddly wallpaper.
Pat Thorpe Apr 17, 2019
Friendly, tidy and interested in their work. Moved and covered furniture, picture, etc and replaced afterwards. The work is to a very high standard and I would recommend to others.
Hilary and Tony Ball Feb 08, 2019
Darren and his team have redecorated our flat prior to us moving in, which has been a real bonus for us. They managed to fit our work in at short notice, despite already being very busy.
The team are professional, friendly and courteous, ensuring that they are carrying out the work to your specification at every step. They are excellent at offering advice and solutions to any problems/defects they come across as the work progresses.
The work has been completed to the highest standard and the flat left clean and tidy on completion.
Darren has kept us informed of progress throughout the project and completed the work well within our deadline.
A big thank you to all of the team. We would certainly recommend Waldron Decorators Limited and will definitely use them for any future decorating needs.
Patricia Hodges Dec 13, 2018
Darren and his team have done an excellent job redecorating our lounge. Everything was left tidy and disruption kept to a minimum. I would have no hesitation in recommending Waldrons.
Paul & Chris Aug 29, 2018
Recently used Waldrons Decorators for first time. Darren & the team decorated our whole house in the 2 weeks we were away on holiday. I would definitely recommend as the workmanship is excellent (not just the painting, but the sanding and finishing too) and they left the house tidy for when we got back. We will certainly contact Darren again as and when we have the need.
M Bovey Aug 14, 2018
Excellent as always. We have used Waldron's many times and would not think of looking elsewhere. We had the kitchen which had just been extended and refurbished, painted, together with outside rendering. All done to a very high standard. Very flexible with the timing, slotting in with the kitchen fitting and floor laying. Also the ' extras ' were done at the same time which we appreciated. When I didn't like the colour I had chosen for the walls Darren came round twice with other samples and suggestions....and repainted one wall!
Many thanks! M and C
M Inchley Jul 25, 2018
Darren and his team have recently painted the external rendering and woodwork of our home and we are very pleased with the result. They were on site for over a week, at all times working unobtrusively and with minimum inconvenience to my wife and I. Darren kept me informed about progress, he spotted and effectively dealt with a couple of defects, without any drama. They are an impressive team whom we will certainly use again.
Steve and Gail Taylor Jul 14, 2018
We have used Waldron Decorators twice for our hall, stairs, landing, toilet, lounge and dining room. Both times we also used an electrician, plumber and plasterer that were sourced by Darren. We can't speak too highly of the professionalism and courtesy of everyone involved. The quality of the work is of the highest standard and everyone involved were incredibly polite and thoughtful. The different tradesmen worked seamlessly with each other and with other, independent, people that we also used. They worked within the timescale and also popped back in to repair a couple of chips caused by the carpet fitter. We will definitely use them again in the future and would highly recommend them to anyone. Thank you to Darren and his team.
S Evans May 25, 2018
Darren and his team redecorated the entirety of my three bed barn conversion, floor to ceiling within a working week, to a standard that has had friends ask for contact details. The results speak for themselves with very close attention to detail and even coverage in remarkable time. Darren made sure all damaged walls were made good and helped me source carpenters last minute for specialist help to poorly maintained oak floors. The most impressive aspect other than the incredible quality of work was the professional, courteous and respectful manner in which the team cared for my house whilst working. The house was left spotless and Darren did not consider the job complete until I was happy.
A brilliant company, highly recommended - I will certainly be calling for their help again.
K R Page May 08, 2018
July 2017, and mid January to early April 2018. Two Contracts to paint the outside of the house and decorate the nine rooms, hall, stairs and landing inside. Outside completed early and to budget. Internal work completed to budget, and were prepared to amend the programme to facilitate moving of the contents around to allow the work to proceed, hence the time scale. They came up with good ideas for work to match our required finish. Work force very pleasant, cheerful, work hard and they love dogs. Will definitely use again in the future, assuming they have not made too much money and retired.
Lisa Wilson Apr 30, 2018
This is the second time Darren and his team have decorated my house. Very reliable and they always do an outstanding job. Would recommend without hesitation.
Sue & Ray Anderson Apr 14, 2018
First class decorating by a first class team of people. Professional in every respect and we would wholeheartedly recommend Waldron Decorators without hesitation.
Patricia Griffiths Apr 14, 2018
Superb and professional workmanship. Reliable, obliging and cheerful team. Attention to detail is impressive, as is prompt timekeeping, and efforts to leave property clean and tidy at the end of each day, causing minimum inconvenience to residents. Excellent problem-solvers, competitively priced. Waldron Decorators provide an absolutely first class service. Quality and customer-satisfaction really matters to them. Recommended without hesitation.
Bev Cotterill Apr 02, 2018
Recommended to us by friends and have to say what a fabulous job!! Very clean and tidy and fantastic quality of workmanship. Wouldn't hesitate to recommend, punctual, respectful and friendly - cheers Wol
Andy Mar 22, 2018
Cracking workmanship and advice. A workman who turns up when he said he would and communicates well too! A rare breed!
Nicola C Feb 27, 2018
Darren has been our decorator for a number of years. He offers a very professional service displaying high quality workmanship backed up by many years of experience enabling him to offer solutions to any problems which may arise. He is a pleasure to deal with and I wouldn't hesitate to recommend him."
Ray and Marie Feb 07, 2018
What a great team Darren and his boys are. To help us they came in a few days early and did a wonderful job on our hall landing and stairs. A very professional job in every way leaving the house clean and tidy at the end of each day. I would recommend Waldron Decorators whole heartedly to anyone who is looking for a first class result
C B Feb 01, 2018
Darren and his team did an excellent job in the time they said they would. All the work was completed to a high standard, the house left very tidy and no mess. I highly recommend their services to anyone looking to improve their home.
Martin R Jan 24, 2018
Our recent experience of Darren and his team is first class. Thorough, tidy, polite and friendly. Compared to another local decorator we have used, Waldrons are professional and head and shoulders above the others. Would recommend without hesitation.
Colin D Jan 19, 2018
We asked Waldrons decorators to completely decorate our hall stairs and landing. This is a job we found to be too big for us to do. The quote was good and the job started, they were excellent, clean tidy, polite and worked well. The preparation work was exceptional leading to a superb finished job which looks better than we could have expected. Would i recommend them - Yes. Would I use them again - Yes
Steve A Dec 23, 2017
Darren and his team turn up on time, complete what has been agreed to a professional standard and can be completely trusted in and around your house. In addition they are a fun and friendly bunch
Robert A Dec 06, 2017
Once again Waldron decorators have done great job decorating one of our bedrooms. I have no hesitation in recommending this company for any of your inside or outside decorating needs. They are most reliable, clean and tidy and do a great job.
Barbara G Nov 28, 2017
Excellent service, polite, friendly and very helpful.I would definitely recommend and we will use them again.
Claire T Oct 25, 2017
Outstanding painters....they take great care and achieve a high quality finish. We were very pleased with the excellent work completed and the friendly service and would thoroughly recommend them to others.
Alva H Sep 12, 2017
Good reliable staff, helpful and meticulous in their work, excellent value for money and great results. I would highly recommend them.
Michelle B Aug 10, 2017
We have used Waldron's for 12 years and are always extremely pleased with the service and standard of decorating. They have decorated the outside of our house and the whole of the inside. They finished the dining room this week, on schedule, wallpapering, paintwork coving all excellent. Always a bonus, radiators were put back and the room left tidy.
Chris L Jul 03, 2017
Needed a good reliable decorator for our lounge and bathroom. Waldron recommended by our accountant. Excellent choice. Very neat, tidy and efficient. Minimal disruption. Already booked for further work at our business the Gate at Bournheath
Simon E Jun 18, 2017
Darren and the team offered great advice, arrived on time, were flexible to a couple of changes and carried out all the work to a very high standard. I would definitely use them again and recommend to others. Thank you.