Broad Street DIY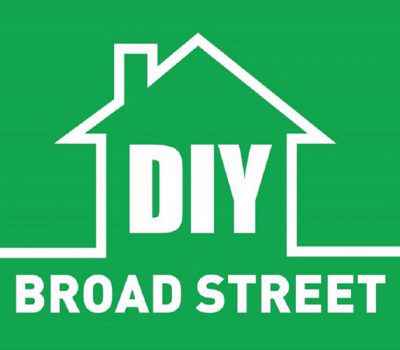 DIY and Home Improvements in Bromsgrove
Broad Street DIY has been established for over 40 years.
"Broad Street DIY was first opened in 1979 on Broad Street in Sidemoor by my parents Tony & Linda after they returned to their hometown of Bromsgrove after living in Australia.
Back then local deliveries were made by Dad & Uncle Tim with a trailer hitched to an old Cortina before our tipper trucks came along. The shop was a great success but it was Sunday trading that really put us on the map with Dad's innovative way of getting round the Trading Laws…by selling onions!"
The years have gone by but by showing the youngsters how important our customers are to our family business and teaching them how to provide knowledgeable, friendly service we can ensure that our high standards and values continue in the years to come as our story continues.
Our range at Broad Street DIY includes Plumbing, Timber, Plastering products, Tools, Paint & Decorating materials, Household, Gardening, Electrical & Door Furniture.
Come and see Broad Street Kitchens – come to our showroom to see the range. We also offer a home measure service.
– If you're considering a new bathroom, we have suites on display starting at less than £350 for a pottery set, bath, taps, WC seat and bath panel.
We also have a Landscaping Yard. This is located close to our DIY store, situated just off the Worcester Road, in Factory Lane. Open 7 days a week.
As well as a variety of services such as key cutting, glass cutting and timber cut to size – in most cases, while you wait.
Our staff are on hand, experienced and very happy to serve you. Please do give us a call or just pop in!
Get In Touch
128 Worcester Road
Bromsgrove
Worcestershire
B61 7AG
01527 873555
Visit Our Website
Email Us
Find Us
Reviews
Average Rating: Broad Street DIY - 39 reviews
JH May 18, 2023
Always super helpful with practically everything you ever need in stock or they will get it for you, they have helped me out many times over the years and I will always use them.
Rob Apr 14, 2023
Excellent local store with just about everything you will ever need and if they haven't got it, they will get it for you.
Pete E Mar 16, 2022
Best DIY store around and the staff always help you find what you need
SVD Jan 03, 2022
Big thanks to Paul Warren and the staff at Broad St DIY ,...quality material , prompt service and good value
Karen Dec 09, 2021
Brilliant, they have everything required from timbers, hardware, electrical, plumbing, cutting the list goes on and on. Dedicated, helpful and knowledgeable staff with reasonable prices and no need to buy whole, pre-packed packets of many fixings. Highly recommended.
John Oct 24, 2021
Sorted out once again, never in doubt as they always have the answer to any DIY problem. Thank you.
Sarah C Sep 23, 2021
Cannot thank Paul enough for his help and guidance, fabulous service.
Chris Sep 22, 2021
Came into the store today for some help with some electrical cables and fittings, wasn't 100% sure what I needed but Jake and Brian were very helpful, knowledgable and polite, great customer service! I'll be sure to visit again if I need anything.
Anon May 03, 2021
Just wanted to give a massive shout out to Broad Street DIY and in particular Liam.
If ever you don't quite know what you're doing then they'll answer almost any question. Service is 10x better than you'll get in the big DIY stores because they have the knowledge.
As a town we're very lucky to have Broad St DIY!
Cheers.
Steve T Jan 08, 2021
Just seen that Broad Street is celebrating 42 years in business, happy birthday guys and thanks for all your support over the years, a great company and a great team
Dave R Nov 04, 2020
Looks like it might be time to get some of those outstanding jobs sorted out (lockdown 2) so guess I will be visiting the best DIY shop in Bromsgrove soon. See you soon Paul and the team at Broad St
Mike Oct 20, 2020
Literally don't know what I would do without this fantastic shop, always have the right bits or tools you need or if not they will happily provide advice and guidance on something that will help you.
Steve Jul 07, 2020
Excellent service and always quality products from the landscaping yard. Thank you and it wont be long before I see you again.
Paul L May 11, 2020
Just wanted to say what a fabulous job everybody has been doing at Broad Street during our lockdown, great (safe) service and its been an absolute godsend to be able to get those "essential" products that have allowed us to stay busy. Thank you Broad Street, great job !.
Paul S Apr 21, 2020
Absolutely brilliant that this store has managed to stay open and provide such a great support to out town. A huge pat on the back to everyone involved at Broad Street and it just goes to show that local, family run businesses are the best and will always be there for you.
Stella Apr 02, 2020
Used the order and collect today, excellent service and always friendly and efficient service from their staff. Thank you and I always recommend you.
John K Mar 31, 2020
The best local home improvement and DIY business around and without doubt my first point of call whenever I need something for the home or garden. Always there for you even in times of crisis !.
Chris Androlia Jan 20, 2020
Broad Street DIY was definitely the place for us to go to
when we wanted to buy a new kitchen and bathroom. Although they are an independent family run business, the quality of their range, the expertise and experience of their salesman Stewart Shepherd, their approved list of contractors plus the helpful, courteous and reliable way they treat us as their customer was excellent.

We have no hesitation in recommending Broad Street DIY
Rosie D Dec 04, 2019
Lovely experience this morning , choosing our Christmas tree..Paul & Ian were helpful, obliging & even offered to deliver it free! Luckily we didn't need it as my other half managed to get it on roof rack
Lovely festive gestures of mince pies & chocs too
Thank you broad street diy, from now on , We'll always have our Christmas tree from you 🎄🎄
Paul L Nov 12, 2019
I went into Bellbroughton saw mill earlier today to get a piece of wood sawn in a straight line. The owner was a very rude old man and laughed at my request with another very old man and his wife. They made me feel as though asking the sawmill to saw something was a very odd thing to do.
I consequently popped down to Broad street DIY who were very helpful and in seconds cut the piece of oak for me. While I was there I purchased several tools and various other materials to do my job at home. In future I will avoid Bellbroughton Saw Mill when faced with the difficult task of sawing a straight line and go straight to Broad Street. Thanks guys.
Christine S Nov 12, 2019
Had amazing service from Stuart. He measured our bathroom & explained what would fit. At my request he gave me contact details for 4 bathroom fitters & we chose one of them. All the supplies were delivered by Broad St DIY. Our new bathroom looks fabulous - thank you.
Nassi Ranjbar Oct 22, 2019
My partner and I use Broad St DIY services frequently and we found the staff are always helpful, friendly and knowledgeable, especially Stuart. He is ever so patient, polite, informative with a professional but fixable approach. We really admire his competence.
Dave B Oct 22, 2019
Brilliant shop, lovely staff and always happy to offer advise if you need it.
Geoff H Oct 17, 2019
Quite simply the best DIY shop in Bromsgrove or for miles around, knowledgeable staff, happy to please, good stock and good prices.
Pete Aug 29, 2019
Always helpful when looking for advice and equipment for DIY in Bromsgrove, great service and very knowledgeable staff.
Dave K Apr 11, 2019
Used Broad Street for many years, always helpful and if they haven't got what you need they will get it or provide an alternative....great customer service.
Martin warman Feb 15, 2019
Great place run by cool dudes always helpful nothings ever too much for them been going for years best place on the map nice family too all the best to you all at. B.S.D.I.Y for now and in the future martin w
S&R . Malpassf Nov 27, 2018
Fantastic service and good workmanship we are pleased with the work carried out ,first-class.
Susan B Oct 04, 2018
Brilliant service and advice, I was a little unsure as to what I needed but a very pleasant man helped me and explained how to best do the job and the best product to use. All sorted and very pleased with the results.
Garry B Jul 13, 2018
Best local business for supporting great causes,that's why businesses go there over "homewaste" every time,from friendly staff to free fast delivery
Linda C May 31, 2018
Top marks for Broad Street DIY this morning for their help repairing my wheelchair. It wasn't easy, but they stayed with it. A lesser firm would just have sold me what I needed and sent me on my way.

I'd forgotten what a range they stock, as well.
Julian T May 30, 2018
Great advice received from Brian - solution purchased and problem sorted very quickly!
Mr Kyle May 04, 2018
My wife and I wanted to renew our shower areas and we found Stuart and everyone at Bromsgrove DIY really, really helpful. I little gem of a place not just for for parts but also for common sense advice, that made the task so much easier for us. Thank you
Izzie M Mar 13, 2018
Everybody at Broad Street DIY are very helpful and friendly and go above and beyond to sort your needs.
Sharon C Mar 02, 2018
Friendly family company where nothing is too much trouble and you're not made to feel useless. I always go there first before using the big stores.
Steven M Jan 16, 2018
All you need in one shop staff friendly and willing to help been using for years and will continue to do so plus better value than the main stream Diy stores 10/10
Hilary M Jan 10, 2018
We have recently had the pleasure of discovering this wonderful shop. The service offered was outstanding and with the help of Stuart we have been able to have the kitchen we only dreamed of. Thank you Broad Street DIY, you have proved that local is best!
Mick J Jan 10, 2018
Great knowledgeable staff, good prices, and very friendly, much more so than any of the other chains. its good to see a small family business thrive!
Julie N Nov 18, 2017
They hold a Ladies Night to help local ladies with DIY, what great support. Thank you Broad St.