Bromsgrove Hot Tub Repairs & Servicing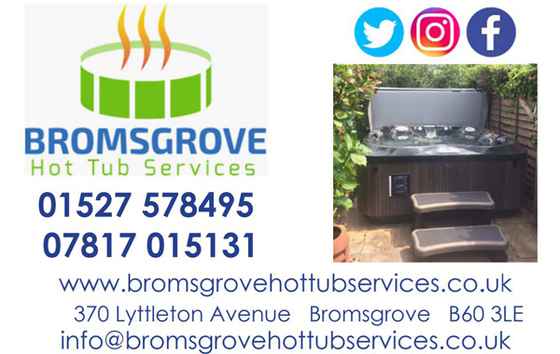 Hot Tubs in Bromsgrove
Bromsgrove Hot Tub Services are a fully insured professional Hot Tub service company who undertake reliable and affordable Hot Tub repairs and maintenance in Bromsgrove, Birmingham, Gloucestershire, Warwickshire, Worcestershire and throughout the Midlands. Are you looking for someone who can repair your hot tub correctly the first time and who offers regular service and maintenance all at a competitive cost?
With more than twenty years of experience, we have the knowledge to repair your hot tub so that you can enjoy the relaxation that you deserve. We provide hot tub repairs and servicing for all brands, so no matter the make and model of your hot tub, you can rest assured that our qualified technicians have the necessary skills to get your hot tub operating as new, leaving your surroundings as clean as when we first arrived.
Just a few of the services we offer include Hot Tub Relocation, Pump repair, and replacement, Heating replacement, Installations, Plumbing leaks, Jet replacement & hot tub cleaning. If your hot tub is not working correctly in any way or sending you an error message please give us a call and we can help you get it resolved.
Hot Tubs and Spa's have now become commonplace throughout and with Hot Tubs being designed to be used all year round it is important to make sure your spa is maintained. Bromsgrove Hot Tub Services gives you peace of mind in the knowledge that your Spa or Hot Tub is being professionally maintained with a reliable back up service by a company who provide an extremely high level of customer service Hot Tubs are complex pieces of equipment with many individual components from pump and motherboard's to Jets and piping having the knowledge to identify, source and replace these from a whole host of suppliers.
Get In Touch
370 Lyttleton Avenue
Bromsgrove
B60 3LE
01527 578495
07817 015131
Visit Our Website
Email Us