Catshill Garage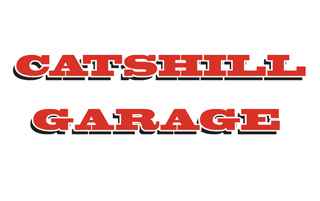 Car Servicing, Repairs and MOT's in Bromsgrove
Looking for garages in Bromgrove? Catshill Garage has been an integral part of village life in Catshill, Bromsgrove for many years and for the last 53 years has been independently owned and run by the Woodhouse family and current owners Mark and Rose still live in Catshill and are extremely proud of the business and it's connections with local village life.
The garage offers a comprehensive range of services including all makes servicing, mechanical repairs, welding, diagnostics, air conditioning, tyres, batteries, vehicle body repairs and MOT work. All the above are backed up by a free collection and delivery service and friendly advice and support are always on hand for those requiring it.
The business is a genuine hub for all types of mechanical repairs and can often be seen repairing and servicing a wide range of garden equipment ranging from traditional petrol mowers to the more complex ride on mowers for bigger gardens.
Mark and his family have a great history in racing single seater racing cars and can offer significant advice and support to anyone looking to prepare race vehicles for racing.
The ethos at Catshill Garage is quite simply "no job is too big or too small, we simply love all things mechanical and pride ourselves on our ability to keep your equipment running whatever the make or model".
For reputable garages in Bromsgrove, call now!
Get In Touch
Stourbridge Road
Catshill
Bromsgrove
B61 9LG
01527 872236
Email Us
Find Us
Reviews
Average Rating: Catshill Garage - 31 reviews
AN Jul 05, 2021
Excellent service, nothing too much trouble and they explain everything so you know what they have done and why. I would definitely recommend them.
Paul Feb 01, 2021
Very reputable, local, family garage with excellent service levels and competitive prices. I always use them and wouldn't go anywhere else.
LS Oct 12, 2020
The complete package, all general servicing. repair work, MOT work and even agricultural machinery and lawnmower repairs, all at great value for money prices :-)
Natalie S Aug 28, 2020
First class service, great prices and even got dropped of at home and picked up when the car was ready, definitely recommended.
KH Jul 10, 2020
Top level service, always with a smile, thank you.
JM Apr 15, 2020
Closed at the moment during this awful crisis but always give very professional and friendly service, detailed explanation of work carried out and very good value for money. I would always recommend Mark and his willing team to anyone requiring work on there cars or indeed anything mechanical.
J turner Sep 27, 2019
Serviced my car today and it's running like a dream, lovely polite staff, will definitely return when mots due.
David Aug 21, 2019
Friendly and professional service, good prices and must be one of the most recognised places for quality car repairs in Bromsgrove.
Miss R May 15, 2019
Great to have this professional garage on our doorstep, I can't remember how many times over the years they have helped me and several neighbours out and always polite and reasonably priced.
Mrs M Apr 24, 2019
First class local garage, high standard of workmanship, good staff, competitively priced and they offer collection and delivery too.
Sue Apr 11, 2019
Very friendly and helpful staff, explained the work needed and carried out and competitively priced too.
Fraser Crawford Mar 08, 2019
This garage was recommended when we first moved to the area 2 and half years ago. It's great to have a local garage you can trust. They've never let us down, always reliable and have no intention of going anywhere else.
John J Oct 16, 2018
Local family business that's been in the village for years, always helpful and very useful to have on your doorstep.
Paul Malin Aug 20, 2018
Excellent garage which can look after modern and classic cars. They have a very honest, clear and straightforward approach which gives you confidence that your car is in safe hands. Cannot recommend them highly enough.
Kathryn Aug 15, 2018
Mark and his team are so helpful, I'm always so happy with the service that I get. Problems are solved quickly, and always very well explained to me. Everyone is always smiley and happy, and I've even had my car delivered to my door when fixed. Catshill Garage is always my garage of choice.
Ian B Jul 31, 2018
Well satisfied with the polite service.
Lorna W Jul 31, 2018
Excellent, friendly service, quickly done at a reasonable price. I would recommend and would use again.
Alan C Jul 09, 2018
First class service and very professional. The work was done promptly and the car delivered back home to me, a great bonus.
Julie Y Jul 09, 2018
We have been using Catshill Garage as a family for over 20 years, always great and reliable service from Mark and his team
Grace D Jul 09, 2018
Great service, I never have to wait longer than a day for them to fit my car in. Friendly staff and reasonable prices. Would highly recommend
Stella L Jul 06, 2018
Booked at short notice prior to a long journey, all sorted out and peace of mind restored. Thank you.
Nicola Jul 04, 2018
Friendly service and very reliable
Michelle B Jun 28, 2018
Moved into the area last summer so we had to find a new garage for MOT. Great service with friendly staff. Booked us in at a suitable time and allowed us to drop car off night before due to our work patterns which was a massive help. Will happily use again and a local business
Susan W Apr 19, 2018
Everything a business should be : knowledgeable, professional, courteous and friendly and I would definitely recommend to others.
Fran H Apr 16, 2018
Fast, friendly and professional service, would do business with this garage and recommend them to others. Thank you.
Claire Mar 13, 2018
Catshill Garage was recommended to me by a friend and they did not disappoint - accommodated my car quickly, offered wonderful customer service (lift to local coffee shop/pick up and drop off local service as needed), all costings for work needed thoroughly explained (at a fraction of the costs provided by another garage) - faultless! Highly recommended!
B L Feb 06, 2018
First class customer service, great job done and all work fully explained to me. Thank you.
Olivia C Jan 30, 2018
Fabulous service, never a hassle to book in and friendly people. I would definitely recommend to others.
Deb W Jan 12, 2018
Mark and his team are wonderful. They are totally trustworthy, offer a great service and are always there if you have any problems with your vehicle.They go the extra mile for their customers.
Barry M Dec 16, 2017
The Team at Catshiil Garage, have always done there utmost to accommodate our requirements and "fit us in" whenever the need arises. In my experience they have always gone the "extra mile" and done their very best in what ever the final bill comes to. Never had any issues with them, and doubt I ever will.
Amy N Nov 09, 2017
I recently had two problems simultaneously with my car. Mark and the lads were very understanding as I took my car back the same day as I picked it up with the second problem. I was a bit nervous about it as my partners car had cost us a lot of money with a similar problem. They put a lot of time and effort into my car and were very reassuring at all times. I cannot recommend them enough not only for the quality of the service but the cost also. Great business.