New Starts Bromsgrove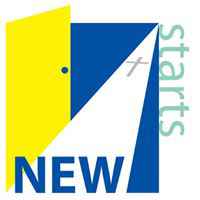 Charities in Bromsgrove
NewStarts prevents homelessness, reduces social isolation and protects the local environment through a vibrant community project.
When homeless people move from hostel/B&B accommodation to council tenancy, they often wrestle with a dilemma during this key transition:
A) Exist in a concrete shell (often with children)
B) Take on loans in order to furnish the property, thus risking debt and eviction (again).
NewStarts uses unemployed and socially isolated volunteers (over 100 people per year) and a small team of staff (9 people) to collect unwanted items of local furniture (170 tonnes per year) which would otherwise be destined for landfill. We gift nearly a third of what we receive to recently rehoused people, working closely with our 70+ referral agency partners (housing associations, other charities, local councils, Citizens Advice Bureau).
Some of our donations of furniture will be just a few items (bed and sofa) whilst others will be a Luton van full of furniture including; bedding, crockery, cutlery, chairs, tables, curtains etc. The size of each furniture donation over the last three years has increased by a third and we deliver over 300 such donations each year from our main warehouse in Bromsgrove and our shop front in New Frankley, Birmingham. Supporting this life-changing work, are the sales of items at affordable prices from our warehouse and shop front, both of which are open 6 days per week.
NewStarts also operates a busy food bank and an I.T. recycling project which reuses unwanted computers/laptops/servers by sanitising the hard drives, and reinstalling/remodelling the machines so they become ready for sale at low cost. We also offer training in basic I.T. skills and an affordable I.T. help-desk for the local community.
NewStarts is always keen to receive quality furniture, computers/laptops/servers, food and funding. If you'd like to find out more about how you can support our work either through giving or helping us deliver the project, please email Andrew on info@newstarts.org.uk
Re:Use
Making the best use of local resources is at the core of what we do. We take unwanted household items and computers in good condition and do our best to find new homes for them.
Re:Settle
Starting up a home for the first time or starting over are real challenges for many people. We step in and provide household items free of charge to those most in need.
Re:Store
Starting up a home for the first time or starting over are real challenges for many people. We step in and provide household items free of charge to those most in need.
Opening Times
Mon-Fri 9am-5pm
Sat 10am-2pm
Get In Touch
1 Sherwood Road
Aston Fields
Bromsgrove
Worcestershire
B60 3DR
01527 882410
Visit Our Website
Email Us
Find Us
Reviews
Average Rating: New Starts Bromsgrove - 9 reviews
Don Mar 10, 2022
Fantastic charity supporting so many of Bromsgrove's vulnerable people, the team are a real credit to the business and are so positive in everything they do.
Waterhouse Ruth Nov 13, 2021
I both buy from and donate to, New Starts in Bromsgrove. When I first moved to the midlands recently widowed, I bought two leather settees to "tide me over". The largest one went on Freecycle after a year. My latest purchase is a rug for my bedroom for £10. It is a perfect match! I am not a Christian and the Christian links of the charity would have passed me by had I not seen it on their website. There is no sell of belief; just good people doing good. I'm all for that!
Paul Sep 18, 2019
Fantastic community support in Bromsgrove and the staff are very helpful. I was very surprised at the amount of ways they offer support to our community and they cannot be commended highly enough.
M T Sep 11, 2019
Collection today was excellent, two men very nice, very efficient, I do recomend them
Mick K Jun 04, 2019
Fantastic business and doing so much good for the community and people in need. If you haven't been, pop in and take a look at what they do and you may then realise that you can contribute in so many ways to help and support this worthy venture.
Lynn Apr 25, 2019
Superb local charity and they help needy people in our community by providing a method of recycling your unwanted furniture rather than throwing it away. They also sell some of it to raise funds, have a foodbank and even sell and repair IT equipment. This place is excellent and does a great job and you should pop in and see what you could do to help ?.
Robert L Nov 19, 2018
Always helpful, lots of great furniture and things to help you get started and affordable too. I would like to thank them for the fine work they do in our community.
Peter H Oct 16, 2018
I recently needed a workdesk to help me working from home and didn't want t go and buy a brand new one at inflated prices, I was able to find a really good desk in great condition and it cost me about a quarter of what a new one would have been and I am supporting a local charity by buying from New Starts. Win, win and I would recommend to others.
Mr S Oct 16, 2018
The work done at New Starts is amazing and the whole team carry through the ethos of supporting local people in need.