KSH Carpets and Flooring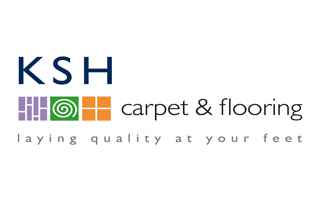 Carpets & Flooring in Bromsgrove
KSH Carpet and Flooring in Bromsgrove is a family-run business supplying carpets in Bromsgrove with over 30 years experience. It's innovative ranges feature all styles of flooring from carpets to designer rubber, so there is something to suit every taste and every room.
"We want to offer something different and are always looking for new products to complement our existing range and that will help to inspire people," said Manager, Natasha Hegenbarth. "This approach has led to some great feedback from customers."
All of the wooden flooring on display at KSH Carpet and Flooring in Bromsgrove is of exceptional quality and from leading manufacturers such as Quickstep, Karndean and Listone Giordano.
Expert advice & excellent wooden flooring service
As with all our ranges, you benefit from our expert advice, a full measuring service, full installation by experienced fitters and a friendly, personal service that is second to none. So, if you are looking for something a bit special for your floor be sure to visit our Bromsgrove KSH Carpet and Flooring service showroom.
Free measuring service
No-obligation quotations
Full installation service
Choose from over 100 ranges
Exceptional quality at competitive price
Over 30 years experience
KSH Carpet and Flooring supply and install…
Solid woods & laminates
Solid bamboo & Parquet panels
Natural fibre carpets & rugs
Twist & patterned carpets
Cork & carpet tiles
Designer vinyls, rubber & Marmoleum
Limestone, slate & marble
Ceramic, porcelain & terracotta
Cleaning products & accessories
Custom-made blinds
Restoration specialists
…from leading manufacturers
Quick-Step Uniclic, Karndean, Listone Giordano, Panaget, Kirkstone, Polyflor, Forbo Nairn, Altro, Crucial Trading, Dalsouple, Greggio Leather Tiles, Kersaint Cobb, Margaritelli, Wicanders, Floorboards, Harvey Maria, Keystone, Island Stone, Woodward Grosvenor & many more..
Get In Touch
18 Worcester Road
Bromsgrove
Worcestershire
B61 7AE
01527 880778
Visit Our Website
Email Us
Find Us
Reviews
Average Rating: KSH Carpets and Flooring - 25 reviews
Julie Mar 17, 2022
Huge stock and almost too much choice but with help from the friendly and very knowledgeable staff we found exactly what we needed.
Diane Jun 23, 2021
Customer service is friendly and professional, huge range of flooring and if they haven'y got it they will get it for you or offer a suitable alternative. Highly recommended.
Kay L Mar 17, 2021
Lovely shop with a complete range of products for every purse and very helpful and knowledgeable staff who always do their best to advise you what is best for your requirements.
Sue P Feb 09, 2021
Surely one of the best carpet shops in town, excellent products and first class customer service, I would definitely recommend.
Joanne T Nov 12, 2020
Really lovely family run business where nothing has been to much trouble. I wasn't 100% sure what I was looking for but they took their time to show me my options in a number of price brackets so I had plenty of choice 😊
Lyn F Nov 12, 2020
This FANTASIC company have supplied and fitted a carpet for our daughter and her fiance for their first ever home together...now this doesn't sound out the ordinary but my daughter and her fiance both have special needs and are starting their life together in supported living accommodation and this FANTASTIC company have said they will supply and fit the carpet for free....I am blown away by the kindness and generosity.......and I for 1 will be recommending this local company to ALL my friends and family...PLEASE support them!!..thank you KSH you really don't realise how you have helped this young couple!!
SP Apr 17, 2020
I know they aren't open at the moment but when this chaos dies down then this shop is definitely worth a visit, one of the best places for carpets and flooring in Bromsgrove, long established family business with a reputation for providing quality and value.
Claire Mar 07, 2020
Beautiful shop and very helpful and friendly staff offering expert advice on all things flooring,a must visit if you are looking for carpets or flooring in Bromsgrove.
Sue T Jan 04, 2020
Always very helpful and a lovely range of carpets to consider and I would always recommend that you take a look at this place when you need quality carpets in Bromsgrove.
Ains 88 Aug 21, 2019
We needed every room in our new build floored. Natasha was fantastic in helping us choose the right carpets and Amtico. Fitting was prompt and of excellent quality. We're really pleased with the finished result and wouldn't hesitate in recommending KSH as excellent for Carpet & Flooring in Bromsgrove.
Jill C Aug 21, 2019
Didn't really understand the differences between all the types of wooden floors available so staff talked me through my options - ended up going for engineered wooden flooring rustic oak for my lounge. Couldn't be more pleased love the colour and look. The fitter was lovely too. I would highly recommend this company.
Happy Customer / Worcestershire Aug 21, 2019
Natasha and Karl build perfect customer relationships, that are easy, totally reliable, honest, . They understand very quickly what you like, what would work best for your lifestyle, what your budget is and know their vast stock so well. Its a pleasure to walk into the store, have them come to your home, chat about what you're trying to achieve and how best to do that and their fitters are the best. Gareth is the most amazing hard floor fitter ever, a true perfectionist who has laid all our floors over the last 5 years. he's trustworthy, so tidy and delightful to be around. We haven't even looked at another flooring company since we met KSH, what they don't know about flooring can't be written on a postage stamp.
Carole Aug 21, 2019
KSH provide a professional friendly service. I would definitely recommend.
Karen F Aug 21, 2019
I chose KSH as they are a Which? Trusted Trader and are in my home town. I wanted Amtico flooring fitted throughout my downstairs and in my bathroom and as it's not cheap, I wanted a good, reliable company that I could trust. Well I got that, and then some! The service was second to none (they were even kind enough to accommodate delays when I had an unexpected hospital stay) and the finished result was not only every bit as good as I anticipated, it was better. It has just been finished and I keep going from room to room smiling to myself. If you want an excellent job done, by an honest, trustworthy, knowledgeable company, look no further.
Karen H Jun 13, 2019
Small but amazing showroom, bit like an Alladins cave with just about anything you might want and very helpful and knowledgeable service. recommended.
Angela J Feb 27, 2019
Very helpful today, Natasha gave some good advice (especially to a woman) and helped with a choice of colour of flooring. Very friendly and professional, non of the usual grumbling. Nice choice of flooring too. Would recommend giving them a visit.
Sarah C Dec 03, 2018
Popped in over the weekend and they have some really good gifts for Christmas if you haven't sorted your presents yet, take a look next time you're passing I'm sure you will be surprised.
Jo H Nov 21, 2018
Fantastic local carpet and flooring shop, a real Alladin's cave and lovely staff too.
Marie F Oct 10, 2018
Lovely shop, always welcoming and a great range of flooring products, something for everyone.
JH Aug 21, 2018
Superb display of carpets and flooring, lots of choice and good advice on hand too. I would recommend to friends and family.
Sonia P Jul 13, 2018
Huge range of carpet and flooring but also sound and knowledgeable advice from staff who clearly know every aspect about each product and it's suitability to your personal requirements, cannot recommend highly enough.
Amy H Mar 12, 2018
Top quality products and service at KSH Flooring and very helpful advice if you are unsure. Thank you.
Anne S Mar 08, 2018
Lovely showroom with a great selection of flooring, helpful staff (and the dogs) and good value compared to others I have tried in the past. Thank you Natasha and I do recommend you to my friends and family.
Pete W Jan 20, 2018
If you want the job done right first time then KSH are the guys to use. Recommended.
Jack J Jan 16, 2018
Good advice from helpful and knowledgeable people makes your flooring decisions easier. Good value for money too.