Darren Varney Interiors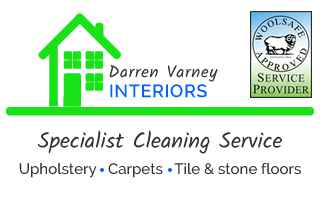 Carpet Cleaning
As a professional carpet and upholstery cleaner in Bromsgrove, we take pride in our reputation and only deliver the highest standards of cleaning services in throughout the Worcestershire area.
Professional Cleaning, Stain Removal and Protection services:
Upholstered sofa and chairs
Carpets & Rugs wool or man-made fibres.
Tile and Stone floors
Dust mite & carpet moth control
Carpet & upholstery service plans
All work carried out by Darren Varney Interiors is fully insured and guarantees 100% satisfaction a local, reliable, hassle free professional service for domestic and commercial clients with over 30 years' experience.
Using the latest equipment, expert knowledge, correct safe cleaning techniques and products we will:
Complete inspection to ensure you get the best result.
Provide a quote with a pre agreed price.
Fully explain our cleaning process.
Leave your furnishing or floors in the best condition possible.
Call now or visit our web site for more information about our cleaning services in the Bromsgrove area.

Get In Touch
329A Bromsgrove Road
Webheath
Redditch
Worcestershire
B97 4NH
01527 402922
07808 778169
Visit Our Website
Email Us
Find Us
Reviews
Average Rating: Darren Varney Interiors - 8 reviews
Darren Waldron Feb 12, 2019
Darren from Darren Varney Interiors recently cleaned porcelain floors in my home and I was most impressed with the work done, his professionalism and his lovely manner. I would recommend Darren Varney Interiors to anyone wanting a high class service.
C B Jul 26, 2018
We are very pleased with the result of the settee clean. It looks really good and much better than I anticipated.

Right from our first contact I thought your service was excellent. You replied promptly to my telephone messages, you arrived punctually, you worked very hard and you were very customer focussed.

Thank you very much.
Brian G Jul 26, 2018
I am writing to tell you how pleased I am with the result of the cleaning of my three piece suite and the bedroom cream carpet. The suite now looks "as new" and am agreeably surprised how the footstool looks considering how grubby it was.

One important lesson I have learned is not to try to remove stains on carpets myself using so called carpet cleaning liquid. The ingrained stains that I failed to remove have now disappeared following your cleaning method so I'm obviously delighted.

So, money well spent and thank you for your professional efficiency.
Mrs L J Jul 26, 2018
I have used Darren's services on so many occasions having two puppies and cream carpet. I used to call Darren if there was an emergency and he would always be there as soon as he could to help. He has cleaned our carpets on so many occasions and to date it still looks brand new, with thanks to Darren. Our furniture has been cleaned too, again can't rate him high enough, 100% satisfaction every time. His services are second to none and I would not hesitate to recommend him to any of my colleagues or family. He is always polite and courteous and respectful of your home and furniture.
L S Mar 05, 2018
I recently had my dining room carpet cleaned by Darren, very professionally done and a fantastic result.
Jan S Jan 09, 2018
I just wanted to thank you once again for the excellent job you did cleaning and resealing my terracotta tiles. The floor looks like new and I am so pleased with the results. It was worth every penny. Your service is excellent and I look forward to you returning to do more work for me.
Diana C Dec 14, 2017
Just had a very old quarry tiled kitchen floor cleaned and sealed. Darren was prompt and the floor now looks fabulous. Great recommendations on products to maintain the floor and extend the seal lifetime. Would definitely recommend this service.
Ken B Nov 17, 2017
Darren is very professional as well as being open and approachable. His services provide excellent value for money. He is accommodating, prompt and above all is a tidy and thoughtful worker. I recommend him without hesitation.