Broad Street DIY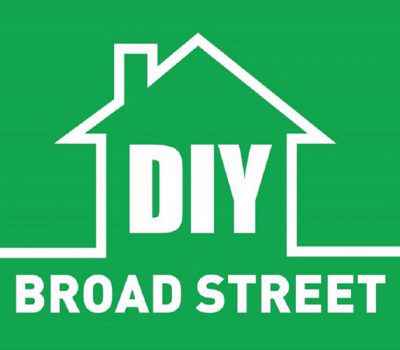 DIY and Home Improvements in Bromsgrove
Broad Street DIY has been established for over 35 years.
"Broad Street DIY was first opened in 1979 on Broad Street in Sidemoor by my parents Tony & Linda after they returned to their hometown of Bromsgrove after living in Australia.
Back then local deliveries were made by Dad & Uncle Tim with a trailer hitched to an old Cortina before our tipper trucks came along. The shop was a great success but it was Sunday trading that really put us on the map with Dad's innovative way of getting round the Trading Laws…by selling onions!"
The years have gone by but by showing the youngsters how important our customers are to our family business and teaching them how to provide knowledgeable, friendly service we can ensure that our high standards and values continue in the years to come as our story continues.
Our range at Broad Street DIY includes Plumbing, Timber, Plastering products, Tools, Paint & Decorating materials, Household, Gardening, Electrical & Door Furniture.
Come and see Broad Street Kitchens – come to our showroom to see the range. We also offer a home measure service.
– If you're considering a new bathroom, we have suites on display starting at less than £300 for a pottery set, bath, taps, WC seat and bath panel.
We also have a Landscaping Yard. This is located close to our DIY store, situated just off the Worcester Road, in Factory Lane. Open 7 days a week.
As well as a variety of services such as key cutting, glass cutting and timber cut to size – in most cases, while you wait.
Our staff are on hand, experienced and very happy to serve you. Please do give us a call or just pop in!
Get In Touch
128 Worcester Road
Bromsgrove
Worcestershire
B61 7AG
01527 873555
Visit Our Website
Email Us
Find Us
Reviews
Average Rating: Broad Street DIY - 15 reviews
Pete Aug 29, 2019
Always helpful when looking for advice and equipment for DIY in Bromsgrove, great service and very knowledgeable staff.
Dave K Apr 11, 2019
Used Broad Street for many years, always helpful and if they haven't got what you need they will get it or provide an alternative....great customer service.
Martin warman Feb 15, 2019
Great place run by cool dudes always helpful nothings ever too much for them been going for years best place on the map nice family too all the best to you all at. B.S.D.I.Y for now and in the future martin w
S&R . Malpassf Nov 27, 2018
Fantastic service and good workmanship we are pleased with the work carried out ,first-class.
Susan B Oct 04, 2018
Brilliant service and advice, I was a little unsure as to what I needed but a very pleasant man helped me and explained how to best do the job and the best product to use. All sorted and very pleased with the results.
Garry B Jul 13, 2018
Best local business for supporting great causes,that's why businesses go there over "homewaste" every time,from friendly staff to free fast delivery
Linda C May 31, 2018
Top marks for Broad Street DIY this morning for their help repairing my wheelchair. It wasn't easy, but they stayed with it. A lesser firm would just have sold me what I needed and sent me on my way.

I'd forgotten what a range they stock, as well.
Julian T May 30, 2018
Great advice received from Brian - solution purchased and problem sorted very quickly!
Mr Kyle May 04, 2018
My wife and I wanted to renew our shower areas and we found Stuart and everyone at Bromsgrove DIY really, really helpful. I little gem of a place not just for for parts but also for common sense advice, that made the task so much easier for us. Thank you
Izzie M Mar 13, 2018
Everybody at Broad Street DIY are very helpful and friendly and go above and beyond to sort your needs.
Sharon C Mar 02, 2018
Friendly family company where nothing is too much trouble and you're not made to feel useless. I always go there first before using the big stores.
Steven M Jan 16, 2018
All you need in one shop staff friendly and willing to help been using for years and will continue to do so plus better value than the main stream Diy stores 10/10
Hilary M Jan 10, 2018
We have recently had the pleasure of discovering this wonderful shop. The service offered was outstanding and with the help of Stuart we have been able to have the kitchen we only dreamed of. Thank you Broad Street DIY, you have proved that local is best!
Mick J Jan 10, 2018
Great knowledgeable staff, good prices, and very friendly, much more so than any of the other chains. its good to see a small family business thrive!
Julie N Nov 18, 2017
They hold a Ladies Night to help local ladies with DIY, what great support. Thank you Broad St.