Ellies Salon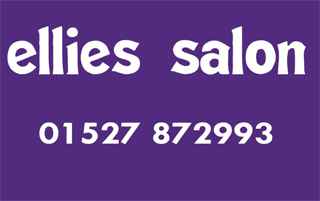 Hairdressers in Bromsgrove
Ellies Salon is situated just outside Bromsgrove town centre, with free parking in front of the salon.
Our salon is quite easy to find, being in Sidemoor, which is just behind the main Bromsgrove Asda supermarket.
We offer high street quality hairdressing by qualified and experienced technicians, at affordable prices. Our stylists often attend refresher courses and have a broad knowledge of all aspects of hairdressing and can offer acrylic nail extensions and manicures at our nail bar, and for that special occasion we can do your makeup too. Between us we have had many years of experience in lots of different sorts of salons in the Redditch and Bromsgrove areas. We believe the culmination of these different backgrounds results in us being able to put all the best bits together to create a friendly, professional, relaxing salon experience, without having the hassle of high street parking, or prices!
Our salon offers a range of services including hairdressing, nails and makeup. We can tailor make bridal packages to help your special day more stress free. Senior citizens discounts are available Tuesdays, Wednesdays, and Thursdays.
Our colouring and styling products are of the highest quality, we also stock retail ranges like GHD, TIGI Bed Head, Fred, and Bondi.
The hair salon opening hours are as follows –
Monday – Salon Closed. Tuesday – 9am-7pm Wednesday – 9am-5pm Thursday – 9am-7pm
Friday – 9am-5pm Saturday- 9am-4pm
Our friendly team of Hairdressers –
Ellie – The salon owner, 30 years old has worked in salons and hairdressing since 1994, worked at the salon previously for 3 ½ years when it was known as Bladerunners.
Pam – Previous owner when salon was known as Bladerunners, has been in hairdressing since 1997, but she'd kill me if I put her age I think!
Shannon – Our junior stylist is in her final year at college. Look out for any special offers available as she extends her hairdressing portfolio.
Currently looking to recruit more hairdressers / stylists – Call Ellie for more information.
Come and meet our friendly hairdressers for yourselves!
We can give you information on available appointments, give you an idea on prices, and help with directions too. Just ring the hair salon in Bromsgrove on 01527 539252
Get In Touch
44 Broad Street
Bromsgrove
Worcestershire
B61 8LW
01527 872993
Email Us
Find Us
Reviews
Average Rating: Ellies Salon - 20 reviews
Natalie T Nov 12, 2019
Thank you to Ellie for a fantastic prom up do for my daughter!
It held in place amazingly and was genuinely stunning :)) thank you !!!!
Louise E Nov 12, 2019
Very relaxed and friendly atmosphere! Lovely Salon 😊
Lauren Marie F Nov 12, 2019
Had my hair done by Jen today and I love it she did an amazing job! I feel human again! the salon all together makes you feel very welcome and it has a lovely atmosphere, every one is friendly! highly recommended Ellie's salon to anyone! thank you so much! x
Helen M Sep 05, 2019
Lovely, friendly and very good stylists, in my opinion one of the best hairdressers in Bromsgrove and free parking !.
Mrs D Jun 03, 2019
Lovely, local hair salon with friendly and knowledgeable stylists who really put you at ease and always make you feel a million dollars. I regularly recommend to family and friends.
Sally B May 02, 2019
Friendly and relaxing, free parking and very good stylists who really know there stuff.
Irini S Feb 27, 2019
Can not recommend enough, when moving it normally takes me forever to find a hairdressers that will deal with my insane hair ideas, walk in to Ellie's not only are they all for it but have ideas to make it look even better than expected!
Liz D Feb 27, 2019
Loving the colours in my hair always made to feel welcome xx
Dennie L Feb 27, 2019
My daughter had her hair cut here last minute and it was fab! Thanks ladies
Kelly S Feb 27, 2019
Had my hair cut and coloured its amazing and such a friendly group of people too, found my new hairdresser !.
Linda C Feb 27, 2019
Very friendly salon excellent colours and cuts always .
Luke F Feb 27, 2019
My 2 year old son doesn't usually like having his hair cut, but Chloe made him feel very relaxed and he behaved brilliantly. Absolutely great atmosphere in the salon. would certainly recommend.
Dee Feb 07, 2019
Lovely salon and super friendly staff. Very reasonably priced too.
Pat R Jan 18, 2019
Lovely local salon, friendly and professional stylists and very reasonably priced. I always recommend to my friends.
Jane P Aug 23, 2018
Friendly environment and staff, great stylists and very reasonably priced too.
Tina C Jul 13, 2018
Lovely local salon with friendly and happy stylists, very adept and reasonably priced.
Sarah B Jun 14, 2018
No nonsense, fuss free and excellent value, I would highly recommend Ellie and her team.
Becky M Mar 07, 2018
The team at Ellie's are excellent and I would recommend you visit.
Izzie M Jan 26, 2018
Friendly and knowledgeable staff, great parking always helps!!
Chloe H Nov 16, 2017
Ellie and the staff at Ellies Salon are excellent, always bubbly and keen to do a good job for their customers. I would recommend.