Hogarths Stone Manor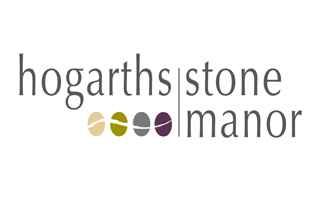 Restaurants and Eating Out in Bromsgrove
In February 2015 when Andy and Helena Hogarth purchased the hotel from The Dunn Family, it was widely assumed that nothing would change at Stone Manor. 100's if not thousands of people have memories of Stone Manor – now is the time to re-visit.
Helena set about giving the hotel some tender loving care, always with the view of re-furbishing the hotel in early 2016. Much work was done on the grounds and gardens, the outdoor swimming pool was filled in and the stunning "Pump Rooms" outdoor events and wedding venue was born. The interior of the hotel was refreshed and cleaned and while many of the existing team of staff stayed on, others arrived introducing fresh ideas and new energy.
So then in January 2016, half the hotel was closed as phase 1 of the refurb took hold of bedrooms, reception, and public areas. As we near the end of May phase 2 will be completed and a fantastic summer awaits.
Guests coming to the hotel now will enjoy the new Dining Room, the bar that has been renamed "The Hive", and the sleepy old Residents Lounge has been changed and now welcomes guests for afternoon tea in "The Burrow".
Additionally the hotels conference, meeting and function rooms have been refurbished and now welcome events from as little as 2 people for interviews, to over 100 people for functions. Weddings have endless options now, indoor and outdoor, civil ceremony, and celebrations.
As part of Visit Britain's celebration of Capability Brown, Hogarths Stone Manor have embraced "Year of the English Garden" and have a whole series of events planned throughout the year. These can be as bold as Jazz on the Lawn in June, to as low key as a tour of the gardens by our head gardener followed by lunch in the Dining Room.
Get In Touch
Kidderminster Road
Kidderminster
Worcestershire
Dy10 4PJ
01562 777555
Visit Our Website
Email Us
Find Us
Reviews
Average Rating: Hogarths Stone Manor - 9 reviews
Keith B Jan 02, 2020
Absolutely wonderful setting for Christmas and New Year and I will definitely be back.
John H Sep 11, 2019
One of the best Hotels in Bromsgrove, a real mix of the old and the new with super attentive staff and very reasonable rates for the standard provided.
Sue T Aug 06, 2019
Surely one of the best and nicest hotels in Bromsgrove, excellent service, beautiful surroundings and a real mix of old meets new creates a superb character experience.
Graham G Mar 31, 2019
My Mother is buzzing, loved the atmosphere, great food and she felt totally spoilt.
Peter R Jun 01, 2018
Great place, lovely decor and ambiance, lovely food and excellent staff
Caroline H Mar 07, 2018
Couldn't ask for better service from the whole team at Hogarth's Stone Manor. Attention to detail is spot on and nothing is too much trouble. Very highly recommended.
Claire M Feb 22, 2018
Fantastic refurbishment, lovely colour scheme and a new feel to the place. The gardens look tremendous and a cool Pimms on a sunny evening is very relaxing in such splendid surroundings.
Laura U Jan 28, 2018
Attended the Young Enterprise event last week at Hogarth's Stone Manor. The room looked fantastic, food was great, staff on hand to help and nothing is ever too much trouble. Well done again Stone Manor.
Debbie H Nov 14, 2017
The hotel has real "character" and is absolutely beautiful, everything you feel just oozes quality and at realistic prices too, a must visit place.