The Bromsgrove Society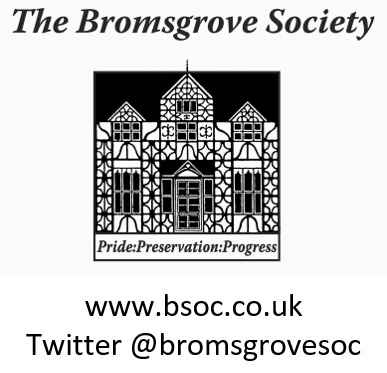 Our Town History in Bromsgrove
Our Vision is "To grow and develop the Society so that we can contribute to making Bromsgrove a place which its residents, visitors and future generations are proud of, and that preserves and shares our area's heritage."
Our Moto is "Pride: Preservation: Progress"
We are proud of our town and district, our place, our people, but we recognise our potential to improve and we will support initiatives which will make Bromsgrove a better place and improve our culture, heritage and environment to ensure it continues to be a great place to live, work or visit.
We want to preserve the best of our historic buildings and make them sustainable for future use, to maintain our natural environment but ensure it is a living place and we wish to ensure that our history is shared and that the things we do and create today are worthy of preservation in the future.
As a Society we will support progress where it respects and values the past and brings sustainable improvements for everyone. We will help make Bromsgrove a place our residents, visitors and generations to come want to invest their time in, whether as a place of business, leisure, culture or history.
What we do – get involved
The Bromsgrove Society holds a regular programme of talks and hosts a three day summer school at Bromsgrove School within the dates of the Bromsgrove Festival. We produce a newsletter three times a year, The Rousler Magazine annually and keep a watch on local planning applications and environmental matters. The Society is regularly asked to conduct research and studies to help understand our past or campaign for a sustainable future. We support community events in the Bromsgrove District through partnerships with other local organisations, including Bromsgrove District Council, Bromsgrove Cricket Club, Bromsgrove Court Leet and Friends of St John's.
Our talks and summer school are open to members and non-members alike. New members are always welcome.
Further information is available online www.bsoc.co.uk or follow us on Twitter @bromsgrovesoc
The Bromsgrove Society is a registered charity number 510542, founded in 1980 and governed by an executive committee of Trustees who are elected from its membership.
Get In Touch
Contact Details
are available via
our website
www.bsoc.co.uk
01527 877227
Visit Our Website
Email Us
Reviews
Average Rating: The Bromsgrove Society - 2 reviews
Paul W Apr 03, 2018
Always working to improve Bromsgrove, keep up the good work
Martin C Mar 08, 2018
Fantastic organisation really trying to make a difference to our town and community