Martin G Clark & Co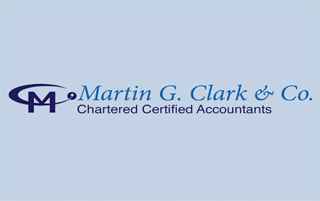 Accountants in Bromsgrove
Looking for experienced, professional, friendly accountants in Bromsgrove, who puts you and your business first?
A local Bromsgrove company, Martin G. Clark & Co, Chartered Certified Accountancy, have been in business for over 27 years.
Due to their vast experience and high quality of advice and customer service, Martin G. Clark & Co. is proud to have many loyal customers in the Bromsgrove area.
Diverse business client base…
Their client base is wide ranging and provides accountancy services to many sectors:
Professional
• Service
• Manufacturing
• Retail
• Construction
Business accountancy services offered…
Whatever the size and type of business, Martin G. Clark & Co's business team dedicate themselves to providing the best possible service, tailored specifically to the accountancy needs of each business.
Martin G. Clark & Co. pride themselves on their expertise, professionalism, service and friendliness.
They can explain your accounts and tax implications to you in an understandable manner and offer relevant advice throughout the whole year, allowing you to remain organised and ensuring that you pay the least possible amount for your tax bills.
FREE initial consultation…
Martin G. Clark & Co. are always delighted to offer possible clients a FREE, no obligation, first meeting at whatever stage their business is at. You might be in the process of starting a new business and looking for accountants that can offer you excellent support and advice or you might have had your business for years and are seeking greater accountancy expertise and improved service.
Please contact us for your accountancy needs in the Bromsgrove area, we are always very happy to help.
Get In Touch
140 New Road
Aston Fields
Bromsgrove
Worcestershire
B60 2LE
01527 579975
Visit Our Website
Email Us
Find Us
Reviews
Average Rating: Martin G Clark & Co - 16 reviews
JD May 21, 2020
Many thanks for the excellent advice and service, very helpful and stress relieving during these difficult times.
David H May 13, 2020
Professional and helpful particularly during this current crisis, I would gladly recommend them to others.
Dan K Mar 25, 2020
High quality and professional accountants in Bromsgrove at affordable prices, saving you money and keeping you compliant in an ever more complex world. Highly recommended.
Keith Feb 14, 2020
Very professional but also easy communication and understandable which is important. I can definitely recommend them and in my opinion one of the best accountants in Bromsgrove.
DH Sep 23, 2019
First class accountants, excellent service and communications and definitely worth a call if you need support with your business.
Keith G Sep 16, 2019
Professional and dependable and would highly recommend to anyone looking for the very best accountants in Bromsgrove.
Stephen B May 11, 2019
In my opinion the best accountants in Bromsgrove, friendly, helpful, up to date with the latest legislation and always available to discuss any queries you may have. I always recommend them to friends and family who need quality accountants.
Matt P Apr 24, 2019
First class accountants, excellent team and highly recommended.
Rob M Nov 02, 2018
Professional and knowledgeable, understandable explanations of the complexity of tax and the HMRC and above all helping to relieve the stress from our accounts.
Pete D Sep 10, 2018
Needed some professional advice and support in a hurry recently and can't thank Martin Clark's team enough for pointing me in the right direction and helping me get things sorted out. Thank you.
Sandra K Jul 13, 2018
Excellent advice and support from Martin and the team, thank you for assisting and for taking the pressure off !.
Mark P Jun 19, 2018
Sound financial advice and service, highly recommend Martin and his team.
Martin A Mar 08, 2018
Martin gave me lots of free help and advice at his initial consultation and my tax returns were completed quickly and efficiently by Martin and his team. I would not hesitate to recommend Martin and his team to anyone who needs a first class chartered accountant.
Jackie H Feb 20, 2018
Easy to contact and always on the end of the phone if I need a bit of advice, Thank you to Martin and the great team at Martin Clark.
Richard C Dec 09, 2017
I have used Martin ever since I went self employed over 25 years ago and they have always provided excellent service and advice, keeping the taxman off my back and saving me money along the way.I am not the easiest person to tie down but Martins team always manage to get the job done professionally and courteously and never seem to mind chasing me for the information they require. You can rely on Martin and his team of expert accountants.
Marley L Nov 03, 2017
Martin and the team are just so helpful and have always got time to understand what your business requires to work more effectively. Thank you Martin.