Jukes Insurance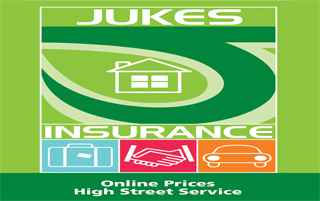 Jukes Insurance in Bromsgrove is a family run business that was established in 1963. Our experienced team pride themselves on providing a first class service, and are committed to offering you the best possible quotation.
HOME BUILDING AND CONTENTS INSURANCE
We specialise in building and contents insurance and are able to offer very comprehensive policies at exceptionally competitive premiums. In addition, we also have schemes for non-standard risks, which include properties with a history of subsidence or flood damage, and policies for those who have previous criminal convictions.
MOTOR INSURANCE
Car Insurance and Commercial Vehicle Insurance have always been our speciality, and we continue to have a number of schemes available which provide excellent cover. We also have great rates for Fleet Insurance from two vehicles upwards.
LANDLORDS INSURANCE
With policies automatically including Loss of Rent and Property Owners Liability and with premiums from £109.50 we are able to offer cover for individual properties, or a policy for multiple properties.
BUSINESS INSURANCE
We offer very competitive rates for Business Insurance, whether you have employees with multiple sites, or if you are an individual looking for Public Liability Insurance.
Package and tailor made policies are available to meet your needs, from Shop and Office Insurance, Homeworkers, Industrial and Surgeries.
CLAIM SERVICE
With our in-house claims department we are able to offer the assistance you require in the event of a claim, from general advice to reporting and monitoring the claim on your behalf.
Get In Touch
63 Broad Street
Bromsgrove
Worcestershire
B61 8LL
01527 874092
Visit Our Website
Email Us
Find Us
Reviews
Average Rating: Jukes Insurance - 26 reviews
PJ Apr 20, 2022
First rate service from real people who obviously know their products inside out and care about advice and service they provide. I always recommend them and will continue to do so in the future.
Paul Mar 11, 2021
Why risk the comparison sites when you can have expert service and advice from real people ? I have used Jukes for years and wouldn't go anywhere else.
Mr Morris Feb 23, 2021
Always helpful and pleasant - very professional.
John Jan 18, 2021
Used Jukes for years, first class customer service and competitive pricing and always go the extra mile when you need them to.
Mrs J Aug 13, 2018
We have been clients with Jukes Insurance for about 19 years now and have found them extremely reliable and supportive either with car, housing, travel insurance. They literally do everything and we just receive the needed paperwork. They are knowledgeable, friendly and above all very professional. Thank you Jukes!
Alan Aug 13, 2018
always on the ball for pricing and quality service, even reminding you when you need to renew your policy when I've forgotten and when you have a problem they help you out all the time
Mrs R Aug 13, 2018
Always friendly and efficient and good value - they provide alternatives to save you the effort.
Ashley Aug 13, 2018
Old fashioned values, competitively priced, why use ten words when it can be said in five
Miss D Aug 13, 2018
I have always found your friendly and efficient service second to none. I have already recommended Jukes to family and friends and will continue to do so. Excellent service, thank you.
Phil F Aug 10, 2018
Shopped around on the internet but came to my senses and called Jukes. Personal service, easy to contact, competitive prices with usually better terms and in the event of any mishaps always there to help. Thank you.
Mrs L Jul 09, 2018
Excellent service, saved £250 switching to Jukes. Would recommend this company
John & Clare Jul 09, 2018
The staff always give good advice and promise to investigate when asked a question or for a quote. It is a company which is a pleasure to deal with
Mr Gregory Jul 09, 2018
We are very impressed with the service we have had from Jukes Insurance. We very much appreciated the alternative quote you provided. You have given us good service since we started with you. We hope that this will continue.
Martin L Jul 09, 2018
Been using these guys for a the last 25 years, great local business !
Can't recommend them enough !!
Stephen B Jul 02, 2018
Great service from a local business and always great value too. Thank you Diane and the team at Jukes.
Mr R May 04, 2018
Tracey Bennett dealt with our house insurance renewal extremely well and we are very happy with this service.
Mrs T May 04, 2018
I've been with jukes for years and the staff have always been really helpful and any claim has been quick and easy.
Mrs S May 03, 2018
I Have had to seek their assistance 2 or 3 times during the last 2 months regarding my car insurance and an accident I had. I couldn't fault the help they gave me and really appreciated it.
James May 01, 2018
Friendly staff on hand to assist with any questions. Timely renewal reminders and quick email responses.
No complaints.
Jim K May 01, 2018
I have dealt with Richard and his company for over twenty five years. Excellent service, always well looked after by the staff, Aaron, Diane and others. Nothing is too much trouble and they are always willing to go that extra mile to get the best cover for you. Highly recommended.
Christine W Mar 22, 2018
Excellent service as always. Great staff, always ready to help - Thank you
Fully recommend
Stephen C Mar 08, 2018
Sorted out car insurance recently for our daughter, excellent service and price, thank you to all at Jukes.
Mair B Mar 05, 2018
After my recent accident I have received excellent service and advice. Thank you Tracey.
Leigh T Feb 06, 2018
Not a faceless online site, real people and very helpful, good value for money and there when you need them.
Sue M Jan 03, 2018
Always better than trawling online, great personal service and competitive pricing too.
Gillian T Dec 05, 2017
My mother had her car insurance for many years with Jukes. She enjoyed catching up with the team and popping in to see them. Really great company.