Magic Wool Studio Nuno Felted handbag (Beginners + workshop)
Event Date & Times
Date: 8th December 2018 (Sat)
Time: 11 am till 6 pm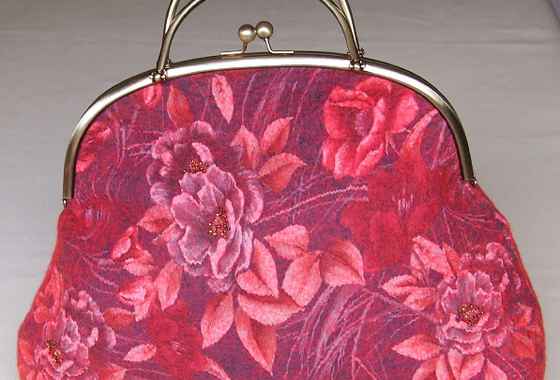 Nuno Felted handbag (Beginners + workshop)
In this workshop you will design and make a unique seamless handbag. You will make a pattern for your bag and find out how to calculate a shrinkage coefficient for your work. You will learn how to combine wool and silk and create a wearable felt. I will supply a bag frame which you will fit to your bag. At the end of this class you will take home a one-off designer handbag.
£75 plus materials
Location
Many of these workshops and talks take place in Kidderminster, Worcestershire. I also travel around the country and deliver them to different guilds, societies and WIs. Please call me for more information.
Contacts
If you wish to find out more about workshops or you are interested in purchasing my work or commissioning a piece, please call me on 07792422385 .