" Create your own wool painting" at Magic Wool Studio
Event Date & Times
Date: 9th December 2018 (Sun)
Time: 11 am till 6 pm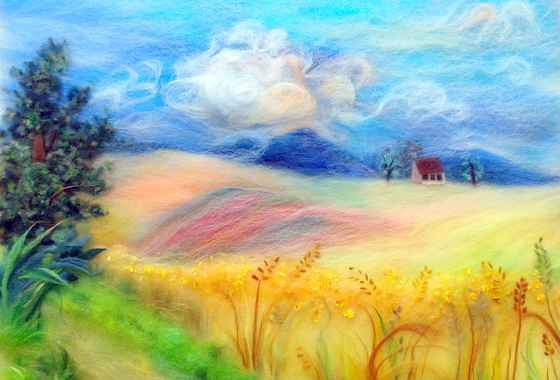 " Create your own wool painting" workshop (suitable for beginners)
This is a really enjoyable workshop. Come along and bring a picture or a photo that you want to recreate in wool. Do not worry if you are unsure how to do it. You will get lots of help and guidance. This is an easy step by step workshop designed for you to have fun with different wools and experiment with colour and fibres. Come around to Magic Wool Studio and enjoy the therapeutic experience of working with natural fibres in a relaxed and friendly atmosphere. At the end of this class you will make a fantastic gift for yourself or a friend - a wool painting which you will put in a glass frame and take with you!
The cost of this fun class is £70 materials included.
Location
Many of these workshops and talks take place in Kidderminster, Worcestershire.
I also travel around the country and deliver them to different guilds, societies and WIs please call me for details.
Contacts
If you wish to find out more about workshops or you are interested in purchasing my work or commissioning a piece, please call me on 07792422385 .