Regal Autolease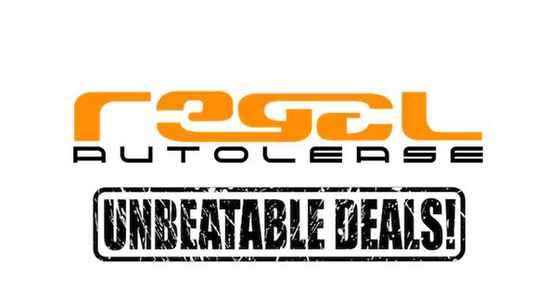 Specialists in all types of car finance such as PCP, HP, Finance Lease & Outright Purchase, but in particular car leasing, van leasing, vehicle leasing and contract hire
Regal Autolease are totally independent, we work with every vehicle manufacturer and quite simply the selection of deals we can offer to our customers are huge. We operate with a panel of finance companies, including the manufacturers, meaning we are able to find the best lease or finance options for you. Our team does all of the work for you; we arrange your credit line, prepare all paperwork for your signing - a paper-free process, order your vehicle and even deliver it to any address of your choice.

Specialists in all types of car finance such as PCP, HP, Finance Lease & Outright Purchase, but in particular car leasing, van leasing, vehicle leasing and contract hire in the UK. You will receive best in class, simple, clear, tailor-made finance solutions for all leading motor manufactures. Every member of our team here at Regal Autolease is committed to delivering world-class customer service, throughout everything we do.

We offer expert guidance and impartial advice to get you the best deal for your budget, including:
> Personal Car Lease
> Business Car Lease
> Van Lease
> Cars in stock, available for fast delivery
> No deposit leasing
Not sure how to finance your new vehicle?
If you are not sure how to finance your new vehicle or you require some general advice then call us on 0333 567 8888 and speak to one of our qualified advisor's who will be delighted to help.
Get In Touch
Feckenham
Nr Bromsgrove
Worcestershire
01527 306070
Visit Our Website
Email Us
Find Us
Reviews
Average Rating: Regal Autolease - 46 reviews
Chris Mar 04, 2020
Professional and superb service from initial query to order and delivery. Highly recommended.
Wendy R Nov 21, 2019
I wouldn't hesitate in recommending Regal Autolease. Tim was nothing short of amazing. He went over and above to find me the right deal, delivered in the timeframe I needed and kept communication at all times. Thanks to Tim I am now driving around in exactly the car I wanted Thanks Tim
Kathryn D Nov 06, 2019
Excellent service from Tim the whole way through. Always on hand to answer any questions and always replied to emails almost immediately. In fact the process was so smooth and easy that I was nervous that it was too good to be true. However my car arrived yesterday and all is well.
Jeremy F Nov 06, 2019
Great experience with Tim (The boss) at Regal Autolease. My first foray into leasing and Tim made it painless, and also put up with me changing option's. Date of delivery was spot on even for a new build (not just straight off the line), kept me updated all the way through. I will definitely going back and giving first shout to Regal in three years time. Do have a small niggle with one option being removed from the car which Regal have absolutely nothing to do with as the model has changed slightly since ordering, but Tim is in the process of finding out what we can do. 5***** all the way.
Isobel A Nov 06, 2019
Excellent service and the delivery was spot on. I would recommend this company to all my friends
Neil H Oct 30, 2019
Thanks Tim for making the whole process simple from initial enquiry to delivery of car. Definitely recommend Regal to others.
Lewis H Oct 30, 2019
Outstanding experience with Regal Motion. Tim is most helpful and kept me informed of the progress of my order all the way through the process. Outstanding deal with outstanding service . Would definitely recommend Regal Motion and will definitely use them for my next car!!
Lee H Oct 30, 2019
Very attentive and professional..... Tim is fantastic and other staff I spoken to extremely polite. Honest service too. Highly recommend!
Karl F Oct 22, 2019
Fantastic support from start to finish. Answered every email (even if a stupid question) made sure that it was best deal we could get and we couldn't be happier with our lease. Look forward to doing business again.
Tina W Oct 22, 2019
Lovely people and do what they can to make your experience an easy 1, keeping me up to date with progress and he dealt with me personally all the way along. Would definitely recommend Regal and hope to do business with them again once this car lease finishes
Neil P Oct 22, 2019
Very smooth and helpful from start to finish
David R Oct 17, 2019
I would just like to say it was an amazing experience ordering my car from Regal. Tim was so helpful and helped all the way, the car was delivered on time and is amazing for the money, I would highly recommend Autolease. Thank you again Tim
Karnjit K Oct 15, 2019
Fantastic brilliant customer service great service always available to answer any quires agreed and negotiated a great deal for me
Lewis T Oct 15, 2019
I received my new car today, excellent service all the way through. Professional, thoughtful and thorough. Constantly went the extra mile, Great job Tim and the guys at Regal. I will be using these every time I get a new lease. 10/10 would recommend.
Zac M Oct 15, 2019
Excellent service always available to answer any questions I had and kept me informed from the start
Rob E Oct 15, 2019
Excellent Service and Price - Highly Recommended
Godwin Jul 19, 2019
By far the easiest way to buy a car online. Tim very efficient, professional and helpful all the way through the journey. I'll recommend any day
Charles Jul 11, 2019
I am a delighted with my new Suzuki Vitara. I found the advice and support was first class. The teams knowledge and experience was helpful in helping me decide making the correct choice. The process of providing statements of finance can be difficult but with their advice at the end of the phone was much appreciated. I would recommend using Regal Autolease as their prices are very competitive and you don't get the "hard sell" you expect from buying from a dealership.
Lewis Jun 10, 2019
Outstanding customer service, can't praise them enough for the effort they put in. They explained everything to me and kept me updated on a daily basis. Within a few days from the first contact I had my Volvo S90 ordered! All I'm waiting on now is the car to be delivered in which I have no concerns about as everything up until now has been dealt with professionally and efficiently. I've already told my friends who are looking at leasing to give Regal a call. 100% will be using them again.
George Jun 05, 2019
So helpful, very accommodating with sorting out my old car and always happy to help. Highly recommended we will be using again when this lease ends.
Paul F Jun 04, 2019
Excellent service from start to finish.
L Milne May 24, 2019
Brilliant Family Owned and friendly company to deal with who gave me a great deal on my Mercedes. The attention to detail and customer care was second to none and they kept me informed regularly from the first contact to the delivery and receipt of the car. 5 STARS from me and will be recommending them to my family and friends
Nicky Cox May 07, 2019
From the initial first contact until after delivery of the vehicle Tim was prompt, reliable and always available to discuss anything at all. The entire process was smooth, professional and user friendly, the car was even delivered ahead of schedule and on a date that was convenient for me too. I cannot recommend Regal enough and I am confident that I will be using them in all future leases. Thanks again for providing such a top class service.
Ryan May 02, 2019
My 1st Lease vehicle and I couldn't have asked for a smoother or better process. Tim's personal service makes all the difference and always there for help with anything I wasn't sure about. Highly recommend using Regal. Top service.
Gavin May 01, 2019
Can't rate these guys enough. No hard sell. Honest prices and the process of ordering was smooth with all documents online so no waiting for things in the post. Couldn't be more helpful and was always quick with updates. Car turned up and is superb.
Tony Apr 29, 2019
A very professional car leasing company
There are many companies to choose from when it comes to leasing vehicles and for many customers it is a daunting process to undertake, so having a company that provides that personal touch is extremely important to me and that's exactly what I felt when dealing with Regal. Throughout the process I was taken seriously and always had the impression that Regal were actively looking to secure the best deal for me.
Allan W Apr 15, 2019
Excellent service from Tim. Very helpful and also checked several different vehicles out for me until I found one which I was happy with. Nothing was to much hassle and very good communication and service. Recommended to friends and family.
Anas A Apr 15, 2019
Excellent service from original enquiry to delivery of vehicle. Things made simple and emails promptly answered. Competitive prices would highly recommend.
Rory M Apr 15, 2019
Very good , Tim has been very helpful throughout, always responded back quickly and processed whole deal very easily
Rachel C Apr 15, 2019
Tim was helpful from the outset, dealt with my requirements quickly and proactively and most importantly kept me informed throughout.
Mr B Apr 15, 2019
I recently acquired a personal lease vehicle from Regal Autolease. The process was so easy. My hectic work schedule prevented me from talking directly with my contact, Tim from Regal Autolease, but following a couple of quick emails my chosen vehicle was delivered within two weeks. I would certainly recommend Regal Autolease (Tim) to anyone wishing to lease a vehicle. Very swift, professional and cost effective. I look forward to future dealings in three years time. Thank you.
David Apr 15, 2019
From start to finish the experience was professional but Tim made one feel like you were dealing with an old fashioned family firm.
Whenever there was an issue he went out of his way to circumvent any foreseeable problems.
Would not hesitate to recommend Regal to any prospective lessor.
Ollie F Apr 15, 2019
So impressed by both the quality of the commercial offer and the impeccable customer service from Tim throughout the process. I can't recommend highly enough and look forward to our next purchase through them. We absolutely love our car!
Steve P Apr 15, 2019
Thanks to Tim for helping me with my first leased car. Nothing was too much trouble and the whole experience was trouble free. I'll be using Regal again in the future and wouldn't hesitate in recommending them to anyone looking to lease a vehicle.
D Jack Apr 15, 2019
I've had a few car on contract hire from different suppliers now and Regal Autolease have proved to be the best out of them all. Tim has kept me up to date with how the order has been progressing all the way through the process which made it more of an enjoyable experience rather than a trauma. I will certainly be contacting them for my next car.
Roger R Apr 15, 2019
Regal Autolease clearly understood my particular specification, they were able locate the exact model and colour of the car I required, and seamlessly arranged all financial, procurement aspects and support, whist keeping me informed, they made arrangements for vehicle delivery to suit my programme. The entire process was timely, stress free and commercially attractive and have no hesitation in recommending Regal Autolease, to those who considering car leasing.
Mark P Apr 15, 2019
I can honestly say from start to finish the service and communication has been excellent, Tim has been in contact with me on a regular basis and guided me through the whole process, making it a very painless experience,

Thank you very much Regal Autolease!
Bob H Apr 15, 2019
I found Tim and his company really helpful, they kept me informed all the way through the processing from start to finish. A very friendly and honest company, advised on the right car for my requirements.

I would recommend Regal Autolease without a doubt.
Colin E Apr 15, 2019
Was looking for a car on contract hire and spoke to a few dealers but I have to say Tim was second to none. The service was professional and everything was smooth.
The car arrived at 9.00am on the morning of delivery again the driver was friendly and professional.
I would highly recommend Tim when looking to change your car. I will definitely look nowhere else when changing my partners car.
Phil G Apr 15, 2019
Excellent service, the whole exercise was smooth and seamless. Would thoroughly recommend.
Derek W Apr 15, 2019
Super customer service and competitive pricing. I highly recommend the team at Regal Autolease.
Max N B Apr 15, 2019
Really professional and helpful, fabulous leasing cost for a totally lovely Peugeot 3008. Would totally recommend.
Simon L Apr 15, 2019
Excellent customer service, very easy transaction, very helpful nothing was too much trouble. Thank you.
Jimmy W Apr 15, 2019
5* Service and acheived a great deal for me! Made the whole process easy and informative.
Tim was always at the end of the phone or contactable via email and helped me to achieve a great deal on the car I wanted........would highly recommend.
Steve B Apr 15, 2019
Tim may have been in the business all his life but he is up to speed on all the latest industry news and systems and will ensure you get a great deal.
Ben S Apr 15, 2019
Know the best way to finance your vehicles for you and offer great advice. Recommended.