Carpets Rugs & Runners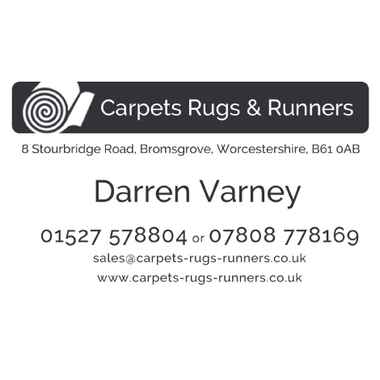 Carpets:
We have a huge range of hard wearing wool, easy clean and natural fibre carpets and rugs for all areas of your home and with 32 years' experience and fantastic no hassle customer service you cannot go wrong.
Our services include:
Free Fitting
Free Estimating
Free Advice Service
In home selection
Backed up by our sister cleaning company we can look after your carpet for years to come.
Rugs & Runners:
We have a fantastic range available to order or from stock in different sizes, styles and colours with a bespoke made to measure service.
Huge Range
Free Delivery
Made to Measure
Rug Builder
Whipping and over-locking service.
Call or pop in today, we are here to help you find exactly what you are looking for........
Get In Touch
8 Stourbridge Road
Bromsgrove
Worcestershire
B61 0AB
01527 578804
07808 778169
Visit Our Website
Email Us
Reviews
Average Rating: Carpets Rugs & Runners - 22 reviews
Diane May 18, 2021
A little gem of a shop and a virtual Aladdin's cave with lots to see and choose from, I would definitely recommend you find them and pop in for a look round.
Natalie Nov 02, 2020
Excellent service, good quality products and fitting and I would definitely recommend Darren if you are loking for carpets in Bromsgrove.
JE Oct 22, 2020
Very knowledgeable, friendly and helpful and I would definitely recommend.
NS Oct 19, 2020
Top service and great quality products, highly recommended.
Lisa D Sep 17, 2020
Excellent local carpet shop with some really beautiful rugs and carpets, the advice and service is always very useful and I would definitely recommend to others.
Sue May 06, 2020
Very pleased with the rug we bought from here a couple of months ago, a really good quality, very stylish and at a very good price too. I would recommend you have a look and speak to Darren when the shop re-opens.
Mrs S May 13, 2019
Extremely helpful and knowledgable, excellent service from start to finish. Really pleased with the result, thank you Darren.
Shop local businesses 👍🏻
Sue Hughes Apr 29, 2019
Excellent, personal service by Darren, nothing was too much trouble and he really listened to our thoughts and came up with first class recommendations. I would recommend him.
Karen H Apr 03, 2019
Lovely new shop with some beautiful rugs and the man in the shop was very helpful and knowledgeable. I would recommend you take a look when you are in town.
Jayne I Mar 18, 2019
Carpets Rugs and Runners recently supplied and fitted carpet to my hall stairs and landing. The service received from choosing the carpet to the fitting was faultless. Would certainly use again.
Lois B Mar 18, 2019
Can't fault the service we received from Darren, he was really helpful in helping us choose the right carpet and we're so pleased. It looks great 👍 highly recommend!
Dawn S Mar 18, 2019
Darren went above & beyond to assist with carpeting my new home.
Very helpful indeed & the quality is superb.
Thanks for all your help Darren.
David P Mar 18, 2019
We went into the shop to buy a rug, and finished by having our hall stairs landing and lounge diner re-carpeted! Darren was extremely helpful in helping us to make our choice, and Ollie the fitter was very proficient in laying our new carpet. We are very pleased with the final result, and would recommend Darren's service without hesitation. Oh, and we bought the rug as well!
Hazel P Mar 18, 2019
We have just moved into the area and needed a rug for our new bedroom. Discovering Carpets Rugs & Runners was a brilliant find. Darren was wonderful, so helpful, welcoming, knowledgeable and accommodating. We didn't buy one, we bought three, all delivered within days of ordering, and we're thoroughly delighted. When we've decorated our next room, we'll be back! Thanks Darren.
Kelly J Nov 26, 2018
I am so pleased with the carpet the quality is excellent and the price was really competitive. The two young men that laid the carpet were extremely courteous, as soon as they arrived the got on with the job without stopping again an excellent job was done.l will certainly be using you again, once again thank you.
John D Nov 12, 2018
Very professional job from start to finish. Very friendly service and I can highly recommend
Gaynor D Oct 20, 2018
I had been looking for a rug for months but couldn't find one with the right colour's and quality. After seeing an advert about Darren's new shop I popped into see him. He had a large selection on offer and even arranged for samples to be delivered to my home which was really helpful, once I had chosen the rug it was ordered
and delivered to me within 7 days. Darren was really helpful and knowledgeable and I will certainly be visiting
his shop again.
Mick & Sarah S Oct 17, 2018
The carpets look great and are perfect for our bedrooms, Ollie the fitter did a great job and is a nice chap, good worker, all said, were very happy with the job. We'll get you in when were ready for hall, stairs & landing,
then living room. Thanks for your help
Pete S Oct 17, 2018
We have just had a new carpet for our stairs and landing fitted, Darren was great, very knowledgeable, prompt on his visit and verbally friendly, the fitter Ollie was superb, the carpet looks great, our next carpet will definitely be from Darren.
Mrs B Aug 23, 2018
Lovely new shop and a very helpful gentleman who clearly loves his trade. Thank you for your advice and I will recommend you to my friends.
Sarah C Jun 22, 2018
Looking for a new rug then this shop can help, lovely selection of quality rugs and very reasonably priced. If you haven't been already I would recommend a visit.
Pete R Jun 22, 2018
Great new shop at the top of town, good selection and very helpful