Care Force Ltd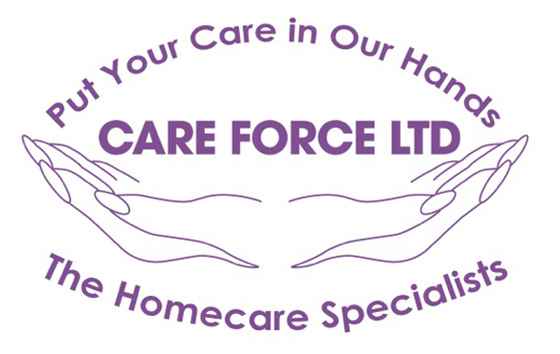 Care in Bromsgrove and Worcestershire
Our Care Services
We know how important it is for you to receive support in a way which meets your requirements exactly. At Care Force we can provide an array of services; each tailored to suit your individual needs.
Hourly Home Care
What is Hourly Home Care?
Care Force provides home care in Bromsgrove and Worcestershire for individuals who need a little help with day to day activities. This is sometimes referred to as "domiciliary care" and involves carers making regular visits to provide an array of services. The government and local authorities continue to encourage people to be cared for in their own homes rather than opting for residential care; there is no place like home.
This service can be as flexible as you need it to be – from 15 minutes to one hour to overnight. Some of the services which we can provide in the comfort of your own home are listed:
Assistance with all your personal hygiene
Getting out of bed, support with bathing or showering, getting dressed
Getting ready for bed
Assistance with taking your medicine
Assistance with shopping and preparing food
Shopping for food, errands and collection of prescriptions
Preparing and cooking food
Assistance with household duties
Vacuuming, laundry, washing up
Assistance with community leisure activities
Accompanying you on trips out to see friends or to go to the shops
Assistance with all your health appointments
Other care services provided
Sitting service
Providing rewarding company and someone to talk to
Providing respite cover so an informal carer can have a break
Overnight care
Who is Hourly Home Care for?
Home care is for those who wish to stay in their own homes and maintain their independence; but require support in order to do so. No matter what your needs are; we like to think our care services make all the difference.
At Care Force we recognise the difficulties that asking for help can present. We can use our experience and committed team of carers who are local to you to present a positive and realistic path forward. We recognise that our ability to provide a leading service to our customers is dependent upon the abilities and performance of our care workers.
We only employ the best care workers, all of whom are required to go through a robust recruitment and selection programme especially designed by our in-house business psychologist.
Personal Care
Those requiring our assistance often need a little support with their personal care. We are there to offer reassurance and encouragement to help you do the things that you can still do for yourself. We also provide full support with all the little things that make you feel good about yourself; whether that be washing, dressing, continence care, bathing, showering. We tailor our care services and maintain their flexibility so that we help you do the things exactly how you like it.
Getting your confidence back
Our person centred approach to care ensures you are put at the centre of everything that we do, empowering you to take control and encouraging and promoting your independence at all times.
Easing the transition from informal to formal care
Care Force aims to work alongside your informal carer(s) so that they are as involved as you want them to be.
We have 26 successful years of providing home care in Bromsgrove and Worcestershire thanks to our fantastic team of carers.
The nature of our work means we have to be 100% confident in our carers' knowledge, skills and abilities. Every aspect of our service has the potential to improve someone's life and our care workers go through a rigorous assessment and selection process which makes sure we get the best of the best.
Why choose us?
Care Force have provided quality professional care for over twenty years. Everyone at Care Force strives to do their very best to give you the best possible care. Our high standards of care mean our customers find it an easy transition from hourly home care to live in care. We care about each of our customers.
Live In Care
We can provide live in care tailored to suit you. Live in Care from Care Force is a full time care at home service which allows you, or a loved one, to stay at home in a familiar environment with an excellent level of one to one support ensuring your well-being and safety. Our service includes all aspects of personal care, housekeeping and companionship.
What we believe
At Care Force we believe everyone has the right to live in their own home, and we are here to enable you to achieve that right. It is important for your emotional and physical health that you are happy in the environment you live in. Being close to family and friends is all part of a good quality of life. Also having your possessions and memories around you add to that quality of life.
How we make it happen
When you contact us we will arrange a time and date that is convenient to you for an experienced Care Manager to call and discuss with you and a family member or friend if you wish, what your care needs are and how they can be carried out. From this meeting a Support Plan will be created. This will identify how we will meet your needs. Before your care starts we will introduce a carer to you who we think is suitable, if you agree we will set a date for the care to start. At Care Force we will regularly send a manager to support you and your carer, to make sure everything is working well with your support package.
Our staff
All our employees go through a rigorous recruitment and selection programme
They all have a DBS Enhancement check (police check)
They have a twelve week induction programme
They have relevant mandatory training up to Diploma Level 3
They have personal training goals set
They receive Dementia, Stroke, MS, Parkinson`s and end of life training
They are friendly and committed to working in the care profession
They have regular supervision by senior experienced Managers
We will only provide competent trained staff
We are flexible in the care we provide
We are always available to discuss your care needs
We will not tolerate poor standards of care
Get In Touch
Holland House
12a High Street
Bromsgrove
Worcestershire
B61 8HQ
01527 577247
Visit Our Website
Email Us
Find Us
Reviews
Average Rating: Care Force Ltd - 20 reviews
Faye Nov 04, 2020
Lovely staff, so attentive and I would highly recommend if you or your family require care in Bromsgrove.
Kate Sep 21, 2020
An absolute Godsend, lovely carers who show care and compassion and really make a difference during there visits, highly recommended and definitely worth a call if you need support.
Emma A Sep 10, 2020
This Summer it was becoming obvious that my Dad was becoming exhausted caring for my Mother who has advanced Alzheimers. The Paramedics recommended you and you have been absolutely fantastic, your carer's have been kind, professional, cheerful and very thorough.The carer's never rush and take time to listed to Dad are unfailingly patient to Mom. Highly recommended.
Sue R Jul 08, 2020
Just wanted to say that the support from your carers has been absolutely fantastic during this crisis and we honestly don't know what we would have done without you.
John H Jun 04, 2020
I would definitely recommend Care Force to anyone looking for a care home provider. The overall quality of the service is very good, everyone knows there jobs and are very committed to helping my wife. Thank you.
The Cross Family May 12, 2020
The care workers are always helpful, caring and compassionate with smiles and practical help. Isn't it encouraging in a world where there is so much sadness and many difficulties, that there are so many good, loving and smiling people. I couldn't manage without Care Force.
Tracey F Apr 29, 2020
I would just like to thank all your careers for doing a magnificent job during these stressful times. Well done xx
Michael M Apr 29, 2020
I am extremely happy with all aspects of the service from Care Force. The carer's are angels and I would recommend them without hesitation. Definitely 5 stars.
KS Feb 20, 2020
I found Care Force here on The Bromsgrove Oracle and I'm so glad, a really great service, lovely staff that really make a difference. If you are looking for care in Bromsgrove then I would definitely recommend Care Force.
Lisa H Sep 13, 2019
Very good carers in Bromsgrove, professional, helpful and great value for money. If you need care for friends or family then Careforce can provide just what you are looking for.
Julie R Jul 24, 2019
First class care and a real empathy for clients and family, highly recommended
PT Jul 02, 2019
Without doubt one of the best Care Providers in Bromsgrove, excellent care staff and always going that extra mile to provide quality and compassion in their work.
Peggy P Apr 15, 2019
After returning home from a lengthy hospital stay. My family insisted that I get some home help. Care Force was not only the cheapest provider they were also the friendliest and professional when we had our needs review. I like the consistency of having the same carers daily at the same time. They have been very reliable even making it in snowy weather. All of my carers have been lovely and friendly and brighten my day by having a friendly face and story to tell.
D C Apr 15, 2019
Extremely satisfied with the service provided. Carers are very friendly and always willing to help. Never had a problem changing attendance times to fit in with my doctor/hospital appointments etc. Would have no hesitation in recommending this company or any of their carers.
Anne T Apr 15, 2019
I have found Care Force to be an exemplary organisation, always willing to make changes to improve the care provided. I have had them come in to support both my mother for the last 5 years and more recently my father. The Managers also deserves considerable praise, coming in to provide care themselves in order to understand the problems for themselves, supporting both staff and relatives.
Winifred F Apr 15, 2019
Throughout the time Care Force looked after my mother she was treated with dignity, respect and great care. The staff were efficient but formed a link with my mother who enjoyed their visits. No visit was missed with carers walking through snow to make calls. I absolutely trusted them as did my mother and their help endured her independence and meant she was able to stay in her own home. I recommend them wholeheartedly.
P C Apr 15, 2019
The carers have been excellent with my mothers changing care needs. Nothing is too much effort. The carers are all friendly, knowledgeable and treat my mom with dignity and respect. I can't recommend this service high enough it is an exceptional service
Colin B Apr 15, 2019
Excellent service. Very pleasant.
Judith L Apr 15, 2019
I am extremely happy with the service that my Mom receives.
I T Apr 15, 2019
I want to say I am very satisfied with what is done for me and I want to thank you all.