The Wildmoor Oak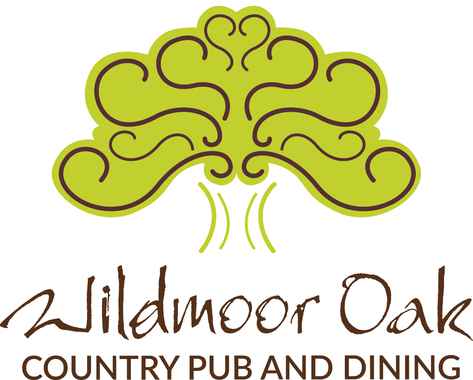 Restaurants & Eating Out in Bromsgrove
Wildmoor Oak Pub and Restaurant brings the Caribbean cooking experience to Bromsgrove
The Wildmoor Oak is a hidden gem with rustic charm set in a peaceful rural setting. Here you'll discover the perfect place for drinking, dining and partying.
We are in the Good Beer Guide 2010, 2011, 2012, 2013 and 2014
We have been awarded 2 Certificates of Excellence from Which
CAMRA Cider Pub of the Year 2012 and 2013.
Lorenzo was awarded Midlands Jerk Cook Off King 2010!
Finalist Ethnic Chef of the Year, Craft Guild of Chefs Awards 2013
The extensive menu, created by multi award-winning chef Lorenzo Richards, offers something for everyone. Enjoy traditional pub classics, the best local beef from the Steak Bar, international cuisine and Lorenzo's special Caribbean dishes. There are also daily specials, a Great British Sunday Roast and Breakfast menu (for pre-booked parties of 6 or more).
Vegetarians, vegans and those requiring a gluten-free diet are well catered for with a much wider choice than offered by many restaurants. A Little Person's menu offers children a varied selection of meals, with portions and presentation designed to appeal to younger diners.
On the last Thursday of each month the Caribbean comes to Bromsgrove. These popular sell-out party nights provide an opportunity to sample different Caribbean food with an authentic 2 course buffet. Dance to the exotic sounds of Reggae, Calypso, Lovers Rock and Soca and enjoy the hugely entertaining limbo competition. Book early to avoid disappointment. Just £19 per person. (Certain T&Cs apply).
In addition to our regular entertainment nights we have special events throughout the year, including summer BBQs and guest performers. Please check our website for the latest events programme.
Whether you're looking for a quiet drink, a meal with friends or a have a special occasion to celebrate, The Wildmoor Oak promises you a warm welcome and friendly, attentive staff. There is plenty of free parking available and wheelchair access to the restaurant and bar. Enjoy an award-winning experience at the Wildmoor Oak. We look forward to welcoming you soon…
Get In Touch
Top Road
Wildmoor
Bromsgrove
Worcestershire
B61 0RB
0121 453 2696
Visit Our Website
Email Us
Find Us
Reviews
Average Rating: The Wildmoor Oak - 47 reviews
Carrie McCoy Oct 22, 2019
Excellent Caribbean food, great service as well.
Harvey Henry Oct 22, 2019
Good food, kind people and a good atmosphere in the pub.
Singh K Oct 02, 2019
Lovely place, really enjoyed it and will definitely be back.
Sue Wilson Oct 02, 2019
Bit slow taking our order, once ordered the food and service was good. The music was a bit too loud for our liking and made it difficult to hear our conversation.
Charlotte Harns Oct 02, 2019
Very friendly staff and beautiful food.
Amanda Pollard Oct 02, 2019
Food excellent, friendly staff and atmosphere, I would definitely recommend.
Vicky Arthur Oct 02, 2019
Excellent service, excellent food, great atmosphere and really enjoyed it. Thank you.
Sarah Draycott Oct 02, 2019
Excellent food and service, thank you.
Harry Kitchen Sep 13, 2019
Brilliant cooked Salmon, great service with a smile, amazing Ciders on tap and looking forward to our next visit already.
Tigara Gillespie Sep 13, 2019
Great food, very helpful staff and I would definitely recommend and will be back.
N Singh Sep 13, 2019
Lovely place, great service, excellent food and a superb location, one of the nicest pubs in Bromsgrove.
Joe Baines Sep 11, 2019
Great food, we will be back
David Biddle Sep 11, 2019
Lovely Service, lovely staff and really nice food.
Wendy Timmins Sep 11, 2019
Excellent food, excellent service and a very relaxing lunchtime meal.
Joe Sep 09, 2019
Visited once it will be the last. There are lots of words printed around the pub and on the internet just how authentic they are we will never know.
All I know is the food is very average in taste and quality but far from average in price. As far as the jerk pork is concerned the main course I was served lacked any taste of jerk and the portion size we visit a proper pub restaurant about five minutes up the and they serve more slow cooked pork for a starter than I recurved as a jerk main course. Lots of words about this place, but you know what they say words are cheap. The waitress was very friendly but she should realise that hot sauce does not make a non existent jerk into something it isn't.
We will not be visiting a second time.
In summary poor overpriced food.
Aileen C Sep 02, 2019
Great food, great service and a great pub for food and drinks.
Mark M Sep 02, 2019
Danni was lovely and very helpful, my first time here and it wont be my last !!.
Darren Gardner Aug 26, 2019
Great visit as always.
Took mom for her 88th Bday.
Beautiful Caribbean food & other dishes were lovely too.
Brilliant service.
Lorenzo even gave some of his time to show how to handle Crayfish on your plate, and also sang a nice R&B rendition of Stevie Wonder's Happy Birthday to our mom.
Thank You Lorenzo & your team for a Great afternoon.
See you guys soon.
Liz C Apr 23, 2019
Popped in for a drink and something to eat over the Easter break, what a wonderful little country pub. They had some really nice and different Ciders on and the food was lovely.
Sean T Apr 11, 2019
Visited this lovely pub while on our travels, charming country feel, good food and pleasant service, we will pop back when next in the area.
Debbie W Apr 02, 2019
Full of character country pub, lovely food and a huge range of ales and ciders available. We had Mothers day lunch and although it was very busy we loved it and send thanks to the chefs and serving staff who worked so hard to make our visit enjoyable.
Emily T Mar 31, 2019
Lovely country pub and great food, was very busy today but we had a lovely time and everyone enjoyed it. Thank you.
Sharon Mar 31, 2019
If i could give 0 then I would absolutely disgused 3mp booking for 25 of us. 50min waiting to be sat down the z futher 50mins for our starters. When asked to see management its was refused and a server came after explaining/how bad things are she said what is it you want me to do !!!!!!!! Really ....never again. Thank you for spoiling 8 mums mothers day
Darren T Jul 31, 2018
Lovely meal, good portions and friendly service and a very good selection of drinks too.
Dave S Jul 02, 2018
If you haven't tried it the curried goat is absolutely excellent, compliments to the chef !.
Alan M Jun 22, 2018
Booked a table and took Wifelet and the Hound (separate area in the Bar where well behaved Dogs are welcome), It was very busy with a great atmosphere. We had the 3 Course Mothers Day Special. It was pure Magic. Both had Pate, Wifelet had Roast Turkey and I had the Curried Goat. Excellent! 2 nice Sweets and I was sampling the HPA Real Ale. Good service, they had several sittings going up to 830 at night! This was the Pub/Restaurant that was on the Hairy Bikers TV Programme recently. Well done, great day!!
David C Jun 22, 2018
While traveling to bromsgrove I remembered a pub and restaurant I went to 20 yrs ago , we decided to see if it was still there and try it for lunch , and we weren't disappointed , just off the main road in a nice quiet lane there it still was , food was fantastic the rum cake was really good .
It's has been updated but has lost no of its appeal
Paul N Jun 22, 2018
Large group of us went last night for the Caribbean night, buffet food was excellent and entertainment was brilliant, will be going again.
Gill B Jun 22, 2018
Just ate the most amazing King prawns, the sauce and bread was absolutely TOE CURLINGLY divine. Will return for the crayfish. Yum yum.
George L Jun 22, 2018
Highly recommended Caribbean food by Lorenzo an award winning chef. Good ales. Good ciders. Good spirits. Something a little different but still has all the usual stuff you'd expect from an English country pub. Recommended.
Anna B Jun 22, 2018
Lived in the Caribbean for 2 years and this is the best food I have tasted since living there .. would recommend the sharing platter
Sharon H Jun 22, 2018
I have never done trip advisor before but i really need to say a big thank you to team wildmoor, we were here for a family event and the staff went above and beyond to make us feel welcome, that and the tasty food made for a wonderful afternoon. Again thank you to Lee and her team
Bonny G Jun 22, 2018
I have never done trip advisor before but i really need to say a big thank you to team wildmoor, we were here for a family event and the staff went above and beyond to make us feel welcome, that and the tasty food made for a wonderful afternoon. Again thank you to Lee and her team
Abby K Jun 22, 2018
Went for a few drinks, couldnt fault it. Brilliant selection of alcohol, friendly and helpful staff and a lovely environment. Went back for food next day and it was beautiful. Good portion sizes and reasonably priced.
Laura P May 01, 2018
Lovely place in the countryside, food was amazing I had jerk chicken, children's meals was really good portions and lovely chips, other people in my party had curry goat, jerk pork and the pie and everyone enjoyed there meals. Fantastic value for money
Bali D Apr 18, 2018
Well where do I start fabulous service from start to end! Lorenzo the owner & all the staff were extremely friendly! Portions were great! & in true Caribbean style your not leaving until your belly full! The cocktails were fab the place was quirky the atmosphere was just fab!
Roger W Mar 21, 2018
Enjoyed the meals very much and will be back for more. A bit of a mix up over the coffees so only four stars.
Linda L Mar 06, 2018
The starters and main meals were excellent, the coffee could have been warmer and the custard too.
Claire C Feb 05, 2018
Great food, good service and a lovely atmosphere.
Hayley P Feb 02, 2018
Fab fab fab took my partner for his birthday wasn't sure what to expect as we both wanted the jerk chicken but wasn't sure it would be like home cooked jerk chicken wow is all I can say what a place food was on point staff were lovely so friendly the whole evening was fab
Heather M Jan 10, 2018
The food was spectacular, good service from very helpful staff.
Roy H Jan 08, 2018
The meal, drinks, service and atmosphere were excellent.
Kathryn B Jan 03, 2018
Great food, great drink, fantastic atmosphere, would recommend.
Heather H Dec 20, 2017
Sixteen dined and not one complaint, good food and good service.
Gillian T Dec 11, 2017
Very friendly staff, great atmosphere and most importantly fantastic food.
Lisa N Dec 06, 2017
Fantastic food, fantastic service and always a pleasure to visit with family.
Alan M Nov 09, 2017
Fantastic pub, great staff and owner. Lovely selection of ales and ciders and the food was superb.