Spice Valley Balti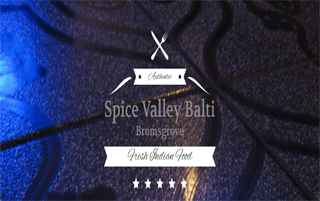 Restaurants & Eating Out in Bromsgrove
Welcome to the Spice Valley Balti indian restaurant in Bromsgrove. Spice Valley's philosophy is to provide a luxurious dining experience in a modern setting to complement the exciting fresh Indian cuisine we serve. The large and spacious dining rooms mean that our guests can dine in unhurried, uncrowded comfort. Indeed our customers have voted us the winner of the 'Best Curry Award' in 2010 and 2011.
So that our guests enjoy only the best indian cuisine we have designed a menu which contains not only the classic dishes we all love but some new and more unusual dishes that we are sure will become firm favourites. You will find our menu specialises in regional cooking with an emphasis on balti dishes. We believe that you cannot do justice to hundreds of different dishes – we prefer to concentrate on a smaller, select number of dishes that we can put our hearts and mind into !!
The restaurant itself is located in the heart of Bromsgrove. Worcester Road runs straight from the town. We are well located and a short distance from the great bars and pubs of Bromsgrove. Although we are not licensed, we do serve a full range of soft drinks and juices as well as tea and coffee.
Get In Touch
74 Worcester Road
Bromsgrove
Worcestershire
B61 7AG
01527 579929
Visit Our Website
Email Us
Find Us
Reviews
Average Rating: Spice Valley Balti - 40 reviews
Jane H Jan 08, 2021
Keep going guys and we will soon be able to come and see you again and have some of your delicious food, look forward to seeing you soon.
Claire D Nov 12, 2020
Had a lovely meal, great service and friendly staff 5 star 🌟
Karen & Friends Oct 10, 2020
Another excellent night, lovely food and such a wonderful atmosphere created by the staff and the restaurant.
Dale H Sep 25, 2020
Fantastic food, always very tasty, great service and excellent service from lovely staff.
Michelle Bowers Sep 16, 2020
Absolutely Amazing
Paul G Jul 29, 2020
Always excellent food, served with a smile from lovely, genuine staff :-)
BH Jul 07, 2020
Had a fantastic takeaway the other night, great food, good timely delivery and can't wait to pop in for a proper sit down meal again soon.
Dave May 08, 2020
Looking forward to being able to go to my favourite place again, to see friendly faces and enjoy the best Indian restaurant in Bromsgrove. In the meantime best wishes and stay safe to Gias and all the guys and really do hope to see you soon.
Gary Apr 21, 2020
I can't wait until we are able to go out again so we can come and have another meal at the best Indian restaurant in Bromsgrove, we miss the warm and hospitable service, fantastic food and welcoming atmosphere and hope we can come back soon. Best regards to Gias and all the staff and stay safe.
Paul M Jan 11, 2020
Fantastic meal last night, great food, attentive service and lovely atmosphere, without doubt one of the best Indian Restaurants in Bromsgrove.
Mandy T May 08, 2019
Had a superb meal and night here, really good food and very friendly, attentive service. I would definitely recommend you try a night out here.
Gary S Apr 24, 2019
Always a very warm welcome from Gias and his team, lovely food and you can take your own favourite tipple. If you haven't been you're missing out !.
Vanessa F Mar 29, 2019
Great food and the best service from a lovely family.
Dave P Jan 04, 2019
Fantastic as always, good food, friendly service and really good value for the money. We will be back soon.
Emily S Nov 23, 2018
Love this place always a very warm welcome and the food is great.
Robert E Nov 09, 2018
Lovely food, very welcoming staff and a warm and relaxing atmosphere. I will be back and would recommend to family and friends.
Daniel T Aug 24, 2018
Tasty food, good service and great value for money.
Craig G Aug 17, 2018
Lovely food and friendly service, we will be back.
Dave H Jul 31, 2018
Another very tasty meal and enjoyable night out at Spice Valley, always very pleasant service from staff who we consider friends. Highly recommended.
Caroline P Jul 13, 2018
Great food always accommodating.lovely staff always helpful. Always welcoming reservations not always necessary
O C Jul 13, 2018
Myself and my husband have been visiting this restaurant for the last 17 years. Having said that we have also visited many other restaurants but always end up coming back here. The food is consistently of a very high standard, our particular favourites being the tawas which are excellent. The naans you can have cooked to your liking, our favourites being crispy with garlic and cheese.
I think recently the food has moved up to the next level, excellent.
The staff are knowledgeable and professional without being intrusive. If you can't see something you like, ask, and the chef will create you something. Over the years they have become friends.
Lox G Jul 13, 2018
This place is much recommended by our work team who eat there regularly. no alcohol license so we took our own beers, glasses in hand we ordered popadoms, starters & mains. every meal was a winner, spot on meals with every curry a winner, it's looking like a payday winner every month going forward. thank you Spice Valley Balti, we will be back
Khalid M Jul 13, 2018
We went to Bromsgrove for a short break and this time took our special needs daughter.
We were looked after by Monir and his staff. My daughter can't eat normal lumpy food so Monir made her a tarka daal without spices. we fed her the meal , she emptied the bowl. I think it is fair to say she enjoyed it. To top it off she was given an ice cream and again she ate it .My wife and myself were happy and also enjoyed the food and service. Thank you very much for a wonderful experience to you and your wonderful staff.
Dave S Jul 13, 2018
First time visit there, wife and myself, Saturday night, very busy and everyone else seemed to know the staff which is a good sign of people going back. Very traditional Balti house and for the money we both thought it was very good value, and being able to take your own alcohol is always a bonus. We will go back.
Julie L Jul 13, 2018
Fab food the best in Bromsgrove. Service is great too ! Would definately recommend you try them out and you won't be disappointed!
Jonathan C Jun 22, 2018
Great service and the mixed tawa is excellent
Steve S Jun 22, 2018
Lovely food, great staff. Always looked after and made to feel very welcome. Would highly recommend.
Lisa B Jun 22, 2018
Excellent food and great service!! Good night had by all
Jessica F Jun 22, 2018
Great curry, great service, great company.
Definitely recommend
Julia H Jun 22, 2018
Great place fantastic food lovely staff. My favourite curry house
Linda H Jun 22, 2018
Staff are always welcoming and cheerful the food is amazing and the naan bread is the best in town.
Mahmud A Jun 22, 2018
Oh my dear, what a superbly awesome food Chicken Tikka Naga, one of the best and tasty food I have ever eaten.
You are gonna miss something in your life and I can tell you, you are gonna regret for this in your life.
So let me know, when you taste this food.
Advance have fun
Natalie B Jun 22, 2018
Fantastic night celebrating moms biryhday. Service was fab food was great. A wonderful night thank you so much!
Adele A Jun 22, 2018
Always fantastic food and atmosphere, the staff are friendly and service is super quick. Can't fault them! 5* place!
Saidul S Jun 22, 2018
I must give them 5 out of 5. They are professional with friendly environments.
Pete W Mar 13, 2018
Our family's favourite place to eat for special occasions and they never fail to amaze us with there tasty dishes and specialities.
Mayaran B Feb 26, 2018
Great place to dine out with friends and family, food was amazing and great customer service.
Clive R Feb 20, 2018
We always come here and the food and service are always excellent.
Janet H Feb 06, 2018
Always great food served with a genuine smile - love it here!
Vicky B Dec 28, 2017
The best Indian restaurant in the county, 5 stars for service, cleanliness and amazing food.