Rememberance Day Parade and Service
Event Date & Times
Date: 11th November 2018 (Sun)
Time: All day event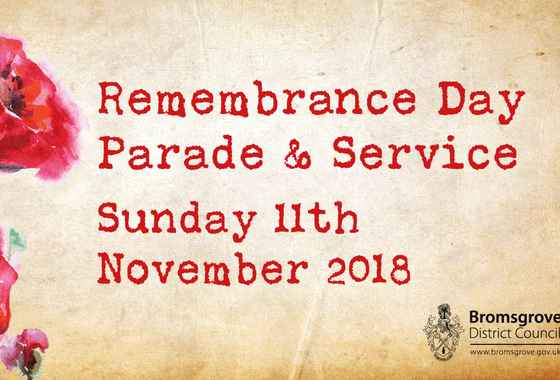 Join us on the 11/11 to commemorate the centenary of the end of the first world war. A full schedule is available on this event page.

6:00 AM
The Battle O'Er, played by bagpiper, Bromsgrove High Street


10:15 AM - 10:40 AM
All organisations taking part in the parade muster opposite Argos on Bromsgrove High Street.


10:40 AM - 10:50 AM
The parade will step off and proceed along the High Street, giving an eyes left at the Odd Fellows Memorial.


10:50 AM - 11:00 AM
The Service of Remembrance will commence.


11:00 AM - 11:30 AM
Act of Remembrance will take place with wreath laying.


11:30 AM
Short service at St John's Church, all welcome.


6:30 PM - 6:55 PM
Gathering at St John's for reflection and music from the church choir.


6:55 PM - 7:00 PM
Last Post will sound


7:00 PM - 7:05 PM
Beacon to be lit outside the church.


7:05 PM - 7:20 PM
Church Bells to ring out


7:45 PM
The Battle of the Somme flm at Routh Hall with live music performed by Bromsgrove School and the Orchestra of St John.


8:00 PM
Battle's Over - Commemorative Community Concert at Artrix. £10 a ticket.
Location
Bromsgrove High Street and St John's Church
Contacts
Friends of St Johns
https://www.facebook.com/FriendsStJohnsBromsgrove/